STEPHANIE'S TRIP
TO PANTANAL AND NOBRES, BRAZIL
Preserved and amazing wildlife.
Having three young children (4, 7 and 9 years old) who love animals, going to the Pantanal (the world's largest tropical wetland area) was a must for our family! We were told that we would see a larger variety of animals in the Pantanal than in the Amazon

and it didn't disappoint ! As soon as you get there, you feel a sense of respect

for the nature and a

joy to be able to witness so much peaceful harmony between the animals and their surroundings. You discover the region by 4×4, river boat,

by horse and by foot, which makes it a lot of fun for the whole family.


Night safaris

Watching an ant eater and an ocelot
Feeling so remote from civilization and so close to nature


Total for a family of 5:
All transfers, all-inclusive, 4×4, all activities, 24/7 guide: $ 4200/6 nights

Flights from Rio de Janeiro: $ 700
Arrival Airport: Cuiabá
Direct flights from
São Paulo or Brasilia. 

With one connecting flight in Sāo Paulo or Brasilia:
From Rio de Janeiro: total of 5 hours
From New York: total of 16 hours
From Europe: total of 19 hours

1 to 2: Cuiabá airport to Fazenda Santa Teresa:
By 4×4: 4 hours
2 to 3: Fazenda Santa Teresa to Pousada Piuval : 
By 4×4: 1,5 hours
3 to 4: Pousada Piuval to Nobres: 
By 4×4: 4 hours
4 to 1: Nobres to Cuaibá airport:
By 4×4: 4 hours


CUIABA AIRPORT TO THE TRANSPANTANEIRA ROAD: STOP 1

150 km / 4h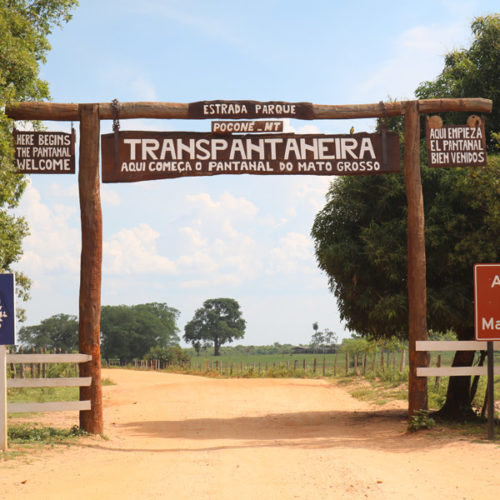 We stayed at the fazenda (farm) Santa Tereza, a haven of peace in the middle of nowhere! The rooms are basic but clean and spacious. The capybaras are feeding at your doorstep! There is a small pool to dive in after each activity. The authenticity of this farm makes it truly charming.

 
As soon as you are on the dirt road, your safari experience begins! There are so many animals to see on both sides of the road: caimans, king fishers, capybaras, marsh deer, emus, jabiru storks, ibis, coatis, hawks, falcons, parrots…
 
Amazing boat trip on the river where we saw the giant otter, an iguana, caimans and all kinds of beautiful birds
 
Horse riding in the surroundings of the farm
 
Watching the ocelot feeding when the sun sets after waiting for 1,5 hours quietly and been eaten by mosquitoes!
 
Night safari: spotting animals in the dark proved very difficult but it is a very exciting experience

THE TRANSPANTANEIRA ROAD: FROM STOP 1 TO STOP 2



35 km / 1h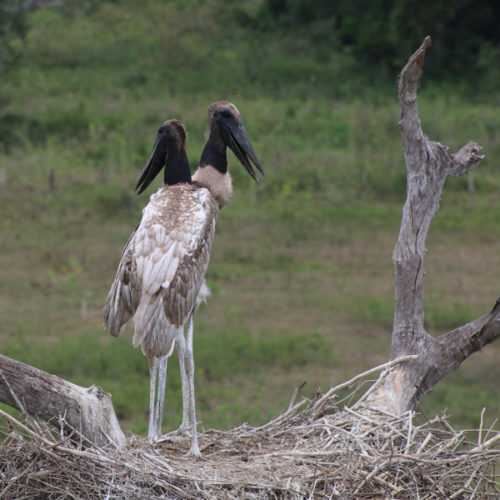 We stayed at the pousada (small hotel) Piuval which, set in different surroundings, offers a different variety of wildlife. The rooms are not as spacious but well-equipped and clean. The large pool is a real plus given the high temperatures. From your room you can see some great plains where animals graze and gather to drink. Again at any moment of your day, you can admire the untouched beauty of this preserved region.

 
The rides proposed by all pousadas are similar but are nonetheless interesting as you never know what you are going to discover.
 
Two safaris at sunset: when the light is stunning and nature seems just perfect! We were lucky enough to admire two amazing sunsets and spot an anteater (really rare to see)!
 
Horse riding in the morning in the plain: we saw an armadillo which we had not seen before.
 


Another night safari when we spotted the great horned owl.

PANTANAL
TO NOBRES



200km / 4h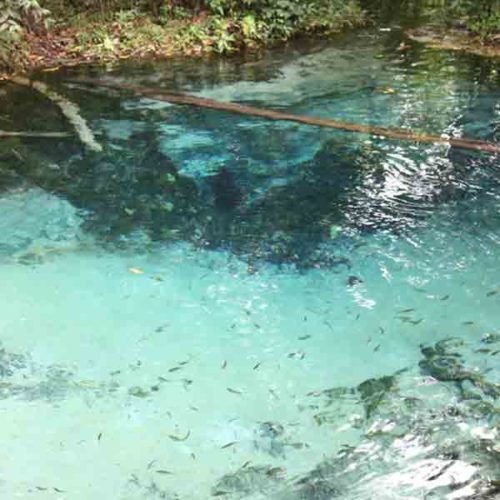 We stayed at the pousada (small hotel) Reino Encantado, which is beautifully integrated into nature and has great open outdoor seating areas with hammocks to chill out! It provides direct access to the Rio Salobra for snorkeling, 5mn walk. Our family room was basic but spacious enough for us five. The staff is very welcoming and the food freshly cooked for every meal. Be warned: an electricity cut can be part of the adventure!

 
Swim with the fishes (and the locals!) at Balneiro Estivado
 
Floating down the river in inflatable tubes: a lot of fun for all of us
 
River diving in Rio Salobra and Rio Triste
 
Lagoa das Araras (macaws): where macaws and egrets gather at sunset, incredibly beautiful
GOOD TO KNOW
---
The best season is during the dry season between June and October: you can watch the wildlife gather around the remaining areas of water.

It is essential to be with a naturalist guide the whole time. They are usually both driver and guide.

Even in the dry season this region is full with mosquitoes: mosquito repellent, light long trousers, long-sleeve tee-shirts and closed shoes are compulsory!

Due to the very high temperatures and the rhythm of the animals, all activities take place VERY early in the morning and from mid-afternoon to night time.

With a small detour we could have gone to the Chapada dos Guimarães National Park on the way from Pantanal to Nobres. We just thought it would be too much with our young kids.

If you travel from Europe or the US, we would recommend a one week stay in another part of the country for example, Rio de Janeiro,  after or before this itinerary. In this way you get the most out of your long travel time.
Albane  tested this trip in February 2017 with her husband, her 8 years old twins and another family of 4. They really enjoyed their stay. Paradise, best ever boat trip, amazing snorkeling, fishing,…
I Travel by boat. Their contact was Stef. She was a great organiser and made a perfect match for the choice of the skipper. They rented a catamaran, it is more comfortable than a monohull sailboat.
They booked their trip through
They started their sailing trip at Green Island. From there, they went to Barbecue island also called Turtle island. Baja Holandes was the best swimming spot and the wildest island. They saw a crocodile (impressive). Waisalardlup was the best snorkeling spot.
Don't miss
Hotel Panama City: 
Some extra tips from Alexandra. She tested this trip in February 2017 with her husband and her 2 boys. One of their best trip ever. They loved the richness of underwater. They saw a lot of barracuda's and sharks.
I Travel by boat. They were very satisfied by the skipper and the boat.
They also booked their trip through
The boat was equipped with a kayak. This was really fun for the boys. They played hours in the water with it.
Hotel Panama City:





The best period to do this trip is from November to March. In April, it might start to be too hot and there are a lot of mosquitoes. On one of the island, we were invaded by sun flies.