THOMAS TRIP TO WHISTLER, CANADA.
One of the largest ski area in North America .
"I'm skiing in Europe since I'm 3 years old and was looking for a ski area as large as those found in Europe.

Whistler has an amazing ski terrain with a vertical drop of 5278 feet or 1600 m.

When the snow conditions are good you can ski from the summit (7493 feet-2283 m) to (2214 feet -674 m). They have

22% of advanced run and 5% of expert run.

They also have the longest continuous lift system in the world that will take you from one mountain to another. You are never bored and will discover

new slopes every day

. Our budget for the whole trip was around

$ 1650 per person for 5 nights

(excluded food and activities)."
5 nights & 1 stop
$$$
270 km

from December to March

ski trip 
NEW YORK -VANCOUVER

6  hours direct flight with Cathay Pacific. Perfect timetable to get the most of your ski days.

Rental Car
270 km in 5 days (airport to Whistler resort: 135 km one way)


4 hours on the road – 1 stop
AVERAGE BUDGET PER PERSON

GRAND TOTAL 1650 $ for 5 nights
l
odging + Ski Lift tickets: 1000 $/pp for 5 nights /4 days skiing

$50 /pp for car rental $ 600 /pp – international flight
Vancouver Intl airport
Whistler Ski Base area
VANCOUVER INTL AIRPORT TO
 WHISTLER  VILLAGE




270 km/2h40
 BLACKCOMB AND WHISTLER
SKI AREA


 WHISTLER VILLAGE
RESTAURANTS


GOOD TO KNOW
---
We stayed in Whistler Village at walking distance to the gondolas. Those will take you up to either the Whistler mountain or to the Blackcomb mountain. However there are other choices. Check here to check Whistler lodging map. 

We rented a car to drive from Vancouver to Whistler. The road trip is beautiful with amazing views of British Columbia. The bus is another option but it is less flexible.

Check out early winter deals on the Whistler-Blackcomb internet site.

The Whistler mountain seems to be easier for less experienced skiers or kids.

The base altitude in Whistler is very low (2412 feet-673 m) and therefore it can rain at the base level when it is too warm. The best time to travel to Whistler would be from December to early February.

We love  

On the

 

Snow

for powder alerts, ski resorts comparison and general info of ski resorts in the world.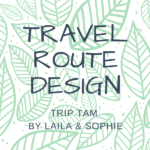 Discover our Travel Route Design services. Save time and take advantage of our community & personal experiences to design your unique itinerary. Learn more >