STEPHANIE'S TRIP
TO CHILE & PATAGONIA
The authentic charm of Chiloé Island and the mind-blowing landscapes of Patagonia.
 "

We enjoyed our trip to Easter Island and the surroundings of Santiago so much that we felt like discovering a bit more of the beautiful nature this country has to offer. We had heard people in Chile mention how charming

Chiloe Island

was with its unique architecture and culture and became intrigued by it! As it is situated on the way down to Patagonia it seemed the perfect stop before exploring one of

the most beautiful national parks on earth: Torres del Paine

. Our budget for the whole trip was around

$ 3625 per person for 8 nights

(included food and activities)."
8 nights & 4 stops
$$$
11 h on the road & 7 hours domestic flights

from May to October

road trip & nature discovery
NEW YORK – SANTIAGO
PUERTO MONTT – PUNTA ARENAS – SANTIAGO


intl flight – 11 hours
domestic flight – 2 hours
+  +
DOMESTIC FLIGHT & CAR & FERRY

& 30 min Ferry11 hours on the road & 7 hours in the air
4 stops
AVERAGE BUDGET PER PERSON

TOTAL: $3625 / pp all included
$ 2125 / pp all inclusive for 8 nights, food & activities



$1000 Intl flight $500 /pp domestic flights
Exploring of the island of Quinchao
Humboldt and Magellan penguins on Puñihuil beach
Guided tour of Castro, the capital of the island
Santiago
Chiloe Island
Puerto Natales
Torres Del Paine



GOOD TO KNOW


---
We landed in Santiago (Chile) From there we took a domestic flight to Puerto Montt and drove to Chiloe Island. We returned back to Puerto Montt to take a domestic flight to Punta Arenas. From there we drove to Puerto Natales & Torres del Paine.

I would recommend to rent a car to explore both Chiloé Island and Patagonia. There is a wide choice of car rental companies both in Puerto Montt and Punta Arenas airports. 

Be aware: there is no petrol station between the airport of Punta Arenas and Puerto Natales nor in the park of Torres del Paine so ensure your car has a full tank when you leave Puerto Natales to reach the park.

The weather can change quickly in Patagonia. You need to plan clothing for all seasons!

There is no shop nor restaurant in the park so you'll need to plan water and snacks. For that same reason the delicious food served at the estancia came with a price. You need to inform the staff in the morning if you wish to have dinner there that same evening. Sandwiches are available to take out on request.

We have small children so we didn't do any trekking in the park. However, there are a lot of options with stunning views on the Torres.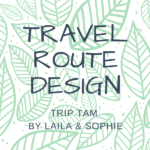 Discover our Travel Route Design services. Save time and take advantage of our community & personal experiences to design your unique itinerary. Learn more >
EnregistrerEnregistrer
EnregistrerEnregistrer