STEPHANIE'S TRIP
TO CHILE & EASTER ISLAND
A unique experience in the middle of the Pacific and the surprising surroundings of Santiago.
 "Having already explored some amazing and very different parts of Brazil, we felt this time like discovering another South-American country. We opted for

Chile and the mythical Easter Island

. In addition to discovering the culture and traditions of

the Rapa-Nui people

during three amazing days, we also had a quick overview of

Santiago, ventured into the Maipo Valley, tasted some wine in the Casablanca valley and fell in love with the vibrant town of Valparaíso.

So four vacations in one! The variety of scenery surrounding Santiago (

within a radius of 2 hrs by car) is simply stunning and definitely worth exploring.

Our budget for the whole trip was around $ 2550 per person for 10 nights (excluded food and activities)."
10 nights & 4 stops
$$
1000 km

from May to October

nature & cultural discovery
Whole day exploring the main sites of the island with a local guide
Horse riding up to the highest point of the island
Beach time at Anakena
NEW YORK – SANTIAGO

11 hours
+ 
DOMESTIC FLIGHT & CAR
10 hours on the road & 10 hours in the air
4 stops
AVERAGE BUDGET PER PERSON

TOTAL: $2650 / pp excl food and activities
$1150 / pp for 10 nights excl. food and activities


$1000 Intl flight
$500 /pp domestic flights
Santiago
Maipo Valley
Valparaiso



GOOD TO KNOW EASTER ISLAND


---
At the airport of Easter Island, you need to buy your park passes in order to visit the sites. These passes allow you to go to some sites only once and to others as many times as you'd like (cost per adult: 54.000 pesos=80$, cost per child over 5: 27.000 pesos=40$)

I would recommend discovering Easter Island the first day with a local guide who will tell you all about the history and mysteries about the island. It's up to you

afterwards

to come back to the sites you enjoyed the most and take some more photos!

Easter Island seems far away from Europe or North America but once you are in South America it is much more accessible and worth a detour!

We went in September, the end of winter in Latin America. The weather was quite changeable on Easter Island and the mornings were very cold in and around Santiago. It might be worth choosing another period for traveling.

Only a few ATMs on Easter Island, bring cash.

Accept that everything is a little more expensive, there are only a few ships per week that deliver goods and Chile is 3,700 km away! 

People can seem a bit harsh at first but this is more their outward appearance. Once you spend a little time on the island, you will feel that they enjoy sharing with tourists.

Our hired car didn't have a GPS, so either ask before or tune

Waze

on your phone.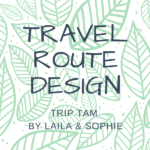 Discover our Travel Route Design services. Save time and take advantage of our community & personal experiences to design your unique itinerary. Learn more >
EnregistrerEnregistrer
EnregistrerEnregistrer