SOPHIE'S TRIP TO 
HAWAII & THE SOUTH PACIFIC
Once in a lifetime trip from Hawaii to New Zealand,
with a stopover in Sydney, Australia & Castaway Island, Fiji.

" 

Sophie and her family had an exceptional opportunity to take a one-month trip. They decided

to head to New Zealand

, stopping over in Hawaii, Sydney and Fiji on the way back. They were marveled by the

unspoiled wilderness

of New Zealand, unlike anything they had ever seen before; they witnessed

nature at its purest

.

The addition of  Hawaii with its extraordinary biodiversity

, ranging from volcano to gorgeous beaches

,

together with t

he paradisiacal island of Fiji,

made this trip unique. They visited the majestic opera house in Sydney, which has a beautiful view overlooking the Sydney bay. They took surfing lessons in Hawaii, made a boat trip in New Zealand and hiked along beaches in Sydney.   
They chose to travel with their three kids. Mattia (2) behaved very well and handled the long flights impeccably. All three kids were delighted to discover

Maori customs in New Zealand

. Also, this gourmet family found lovely local restaurants at every stop along the way. Enjoy this

out-of-the-ordinary itinerary

created and tested by Sophie and her family. You can opt for one or two legs of the trip. Just choose the places you wish to visit and feel inspired by Sophie's experience for your next once in a lifetime trip. Their budget for the whole trip was around

$ 4500 per person for 22 nights

(10 nights spent with relatives + excluded food and activities).

"
32 nights & 11 stops
$$
1540 km in New Zealand

from November to April (New Zealand)

nature & cultural discovery

Snorkeling
Visit of Pearl Harbor
Beaches and surf lessons
NEW YORK – HONOLULU


12 hours – direct flight
HONOLULU – SYDNEY – AUCKLAND – FIJI – HONOLULU
17 hours
RENTAL CAR IN NEW ZEALAND
1540 km in 13 days in New Zealand


20 hours on the road -5 stops in New Zealand
AVERAGE BUDGET PER PERSON

$ 4500 / pp for 22 nights (10 nights spent with relatives)
$2000 /pp for  22 nights (without breakfast)
$200/pp for rental car & taxis
$2300 /pp 
Honolulu Arrival airport
Sydney, Australia
New Zealand
Fiji Island
Tutukaka
Hokianga
Cape Reinga
Mangonui
Paihia
Hamilton
Rotorua
Denarau Island
Kauai Hawaii
Cape Reinga
Mangonui
Paihia
Hamilton
Rotorua
TUTUKAKA, NEW ZEALAND  TO
HOKIANGA, NEW ZEALAND

2h30 – 150 km
HOKIANGA, NZ TO
CAPE REINGA-MANGONUI, NZ
+   

5h – 330 km

MANGONUI TO PAIHIA – RUSSEL
HIKURANGI- TUTUKAKA, NZ
  +   

3h45-190 km

TUTUKAKA, NZ TO
ROTORUA, NZ

6h – 450 km

ROTORUA-AUCKLAND, NZ  TO CASTAWAY ISLAND , FIJI
+   

3h/230 km + 3h flight

CASTAWAY ISLAND TO
DENARAU ISLAND, FIJI

20 min by seaplane

FIJI VIA AUCKLAND, NZ
TO HONOLULU, HAWAII

5 h + 9 h flights
GOOD TO KNOW
---
We traveled with Hawaiian airlines. It's a great company: good food & service, they are very caring with kids!

Buy a roundtrip with one airline company to get great deals.

Don't forget to plan activities for your kids during the long haul flights. It can quickly become a nightmare if you don't have sufficient entertainments. Here are some tips and ideas that I read from NY times.

When you travel for an extended period,  foresee some longer stops of at least 5-6  days to relax to do some laundry & to get organized for the next stop.

Don't plan a strenuous program in each places.  Sometimes it's also nice to decide on the spot & follow your inspiration.

Be ready to change your plan in function of unforeseen weather events.

We had already been to Australia therefore we went only for a couple of days to Sydney.  We would recommend to skip this part and foresee an exclusive trip to Australia if you have never been there.

Packing for one month can be kind of a challenge: foresee both warm and light clothings. Don't overpack – you can always buy missing stuff in a lot of places in Hawaii & Australia – Plan the medications that you are used to as this can be more difficult to get. 

Very good Asian food in Honolulu.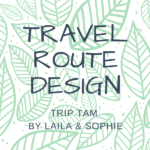 Discover our Travel Route Design services. Save time and take advantage of our community & personal experiences to design your unique itinerary. Learn more >