FAMILY VACATION TO BELIZE 
SHARED BY LUCIE
An eco-friendly destination that combines beach and jungle life
They were attracted to Belize because they had heard that it is

an eco friendly country

, it's an easy flight from New York and

it combines beaches and jungle sites

. They didn't want to travel long distances from one place to another. In Belize you can travel

from the seaside to the Guatemalan border in only 3 hours

. Belize is also known for

its incredible coral reef

, one of the largest in the world after Australia.

A paradise for both snorkelers and divers

. All these assets made Belize a perfect destination option for a one-week trip during the cold winter months in Europe and  North America. Their budget for the whole trip was around

$ 2430 per person for 7 nights

(excluded food).
7 nights & 2 stops
$$$
260 km

from November to April

Beach, jungle & sealife
NEW YORK – BELIZE

5 hours
$800 -direct flights from NY Newark on Saturdays.
+ 
DOMESTIC FLIGHT & RENTAL CAR WITH DRIVER
1 domestic flight (Belize city to San Pedro) This flight was booked directly through the hotel.


4 hours on the road &  40 min  in the air
2 stops
AVERAGE BUDGET PER PERSON


TOTAL  = $ 2430 /pp for 7 nights$ 1170 pp for 7 nights 
$ 300 pp all acivities & transfer @ Sleeping Giant
$800 /pp intl flight – $160 /pp domestic flights
included in hotel package
BELIZE CITY TO
SAN PEDRO

15 min

SAN PEDRO TO
BELMOPAN
+
15 min flight+ 160 km / 3h (roundtrip)
GOOD TO KNOW
---
Consider Placencia instead of San Pedro, as it combines mountain and beach. San Pedro is becoming a hot tourist spot.

When you go snorkeling, be careful with the sharks. Avoid to go too close.

Warning: it is infamous with children trafficking in Belize.  Remember to take your wedding book with proof of your children to avoid facing any problems at the airport in NY.

Belize holds difficult diplomatic links with Guatemala. make sure to keep an eye on this situation before planning an excursion on the other side of the border.

Book your flight tickets well in advance to get good rates.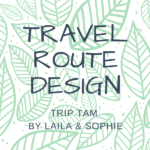 Discover our Travel Route Design services. Save time and take advantage of our community & personal experiences to design your unique itinerary. Learn more >