LAURENCE'S TRIP
TO FLORIDA, US
7 NIGHTS/2 STOPS 
Discovering the wild side of Florida.
"

Laurence and her family went to Florida during easter to warm up after a hard & typical NY winter.  They chose Florida because it is easy to organise and flight prices are affordable for a family of 4.  They had already visited Miami and its lively beach life. This time they wanted to discover the peaceful side of Florida on the west coast. They enjoyed the natural and wild side of this coast line. It also combines fun activities for the kids with relaxing time for the parents.

»
NEW YORK – FORT MYERS – NAPLES – NEW YORK

3 hours


$500
TAXIS
2 stops in 7 days
Small transfers of max 2 hours

AVERAGE BUDGET PER PERSON

TOTAL BUDGET: $1300/pp excl food & activities. $ 675/pp for 7 nights excl. food and activities|

$500/pp 
$125/pp
 

HIGHLIGHTS OF THE TRIP
Captiva Island

Dolphin watching
Swimming pools
Bike tour along the beach
FORT MYERS AIRPORT TO
CAPTIVA ISLAND
1h30 / 70 km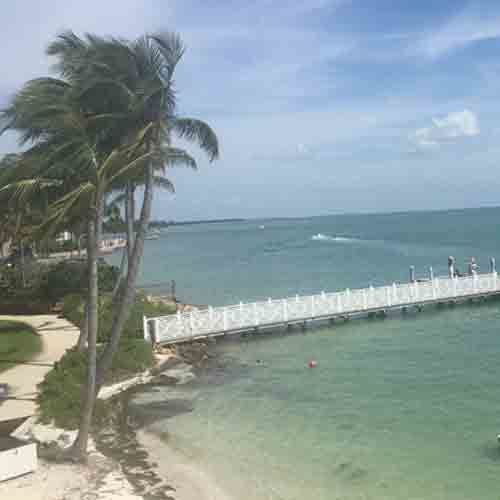 W

e stayed at

Resort SOUTHSEAS à Captiva Island . 

We booked one room with 2 king beds with sea & dolphin view. We saw more dolphins from our terrace than from the expensive  dolphin boat tour that we had booked. The resort offers breakfast but it was very expensive. Therefore we went to Starbucks in the park nearby the hotel for our other breakfasts. Much more affordable. The resort had 3 swimming pools, one with a slider. A lof of un for the kids On the other hand lunch at the restaurants near the swimming pools are affordable and good. 

There is a nice restaurant for the evening.

We spent a typical day at the beach with shell hunt, swimming and jumping in the big waves. We also admired great sunsets while drinking  cocktails at the beach bar. 

We alternated between the beach and 3 of the resort swimming pools. One with a slider! 

We also rented bikes to discover the wild coast with on one side the sea and on the other side amazing celebrity houses….The flora is very rich and colorful. Just amazing. 

We took a 2 hours dolphin watching boat trip. We didn't see any dolphins during the trip, only a few when we clame back to the port. We saw more dolphins from our room terrace than on the boat. It was not really worth it. We would not recommend to take that tour.

CAPTIVA ISLAND TO
NAPLES
1h40 / 100 km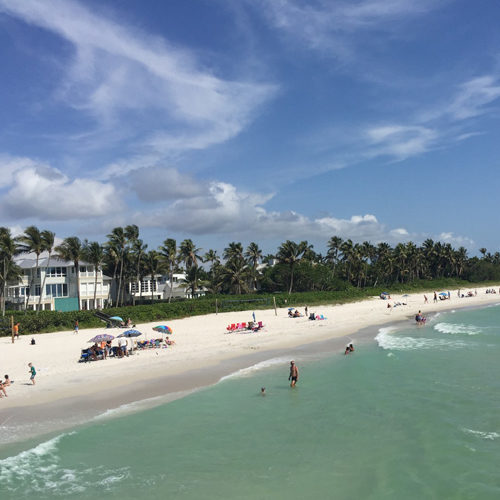 We stayed at the EDGEWATER beach hotel in Naples.

 A v

ery nice hotel, more expensive than the first one. We had booked a small apartment. (1 sofa bed for the kids in the living room , 1 master bedroom for the parents and a small kitchen space). We could eat our breakfast in the room in the morning.

Beautiful white sand beach with 2 swimming pools. 

This resort was less kid friendly, more sophisticated, very cosy and pleasant. They offer a free shuttle service to Naples town center.

We went to the town center every evening 3 miles from the hotel by taxi, with animated streets and a 5th avenue featuring restaurants and chic boutiques. It's a small town so you don't need to spend hours in town. Beautiful Pier « Napier pier » A must see.

We spent one day in the Everglades. ( 1 hour drive max/60 km) We took a Speedy airboat tour to see crocodiles (

speedysairboattours.com

) Very funny for the kids. A thrilling adventure is guaranteed ….even-though we didn't see any crocodiles….

We went for a hike in the F

akahatchee Strand Preserve State Park & Boardwalk (for 1h30….there we finally saw crocodiles.
GOOD TO KNOW
---
Breakfast in the hotels are very expensive. Therefore we went for less costly solutions (Starbucks or self made breakfast in the room) both on Captiva Island and Naples.

We recommend to rent bikes on Captiva island. It is a great way to discover the coastline and to hunt for celebrities houses.

We would not recommend the dolphin boat tour. It is expensive , touristy and definitively not worth it.

Captiva island is a perfect place to disconnect from a busy life, You have the choice to spend time either on the beach, or on a bicycle or in the pool ?

Good restaurant choice for lunch and dinner in both places. Good value for money. 

Combining a stay in Naples with Captiva island allow you to foresee a day trip to the Everglades and to 

the F

akahatchee Strand Preserve State Park & Boardwalk

Naples is a charming and lively town. We recommend to start with Captiva island.  It's quitter and more remote. A good way to start your holidays.

No need to pack a lot of clothes. The weather is warm and you spend the day at the beach. Don't forget your suncream, a hat and a wet t-shirt.

This is an easy trip to plan and to book. Short flights and connections.
EnregistrerEnregistrer
EnregistrerEnregistrer
EnregistrerEnregistrer
EnregistrerEnregistrer
EnregistrerEnregistrer