LAILA'S SKI TRIP
TO JAPAN
Ski trip Japan: free ride skiers paradise!
"Hokkaido is the second largest island of Japan and is an absolute paradise

for free ride skiers

. The island benefits from a unique weather phenomenon that makes the snow extremely soft and powdery.

Snowfalls occur on daily and can go up to 10m!

This dreamy snow combined with

Japanese traditions

make it an unforgettable ski trip. Laila and her friends headed there for a 10-days ski trip (8 nights) perfect for experienced (or the very least skilled) skiers. There are no ski lifts because you are in the total wilderness, but not to worry, your appointed guide will know all the tricks and turns. If your kids are not up to it, there are great ski resorts located on Hokkaido island. That way, they can still enjoy the amazing snow and the incredible Japanese experience at their appropriate scale! Our budget for the whole trip was around $ 5200 per person for 8 nights (all included).

"
« This is the wild backcountry where you have to get up the mountain under your own steam, and steamy you will become, just like the active volcano that you skin up! » powderhounds.com
8 nights & 4 stops
$$$
570 km

from December to March

ski trip
photo credit ©lailabogaert
ZÜRICH – TOKYO – SAPPORO

15 hours
$1100
POWDER VAN
570

 km in 8 days


11 hours on the road 
4 stops
AVERAGE BUDGET PER PERSON


TOTAL  = $ 5200 /pp for 8 nights all included.
Ski touring trip
including hotels, transfers, van rental, 2 days of ski lift, 2 ski guides during the whole stay, breakfast and dinner: (extra's to be foreseen for single rooms) This price can vary in function of exchange rates.$ 3600 / pp for 8 nights – 


$1100 /pp flight round trip
Expenses for lunch, massages, extra drinks = $ 500
Japanese gourmet dinner
Kiroro ski resort
Kokusai ski resort
Otaru
Niseko
Kami Furano
Sapporo

GOOD TO KNOW
---
Prepare or buy food in advance when ski touring outside of the ski resorts because there is nothing on hand or in the area

Bring very warm ski clothing. Be prepared to wear several layers. You will be sweating and warm on the uphill part. Be prepared to encounter very cold and harsh conditions when you arrive to the top of the mountain. Therefore it is important to quickly change to warmer clothing. We recommend 4 layers: base, mid layer, light duvet jacket and on top a gore tex hardshell. we also brought a heavy duvet jacket to wear during longer breaks. Here are some buying advices for equipment.

It is easy to take out money in ATM's No need to buy yen on before hand

Take some time to learn and ask about Japanese essential manner and etiquette. It's important to show respect to their traditions to behave and to adapt to their culture. You are the one visiting them. Here are some tips.

We stopped very often in 7 to eleven shops You can buy Japanese snacks but you will also find western style snacks like snickers, twix, trail mix etc…

Do you like fish? If not you might have a food issue while visiting Japan as fish is the basis of their food preparation.

Plan to hire a ski guide to take you in the backcountry area.

You can combine this trip with a city trip to Tokyo by adding 3-4 days in this amazing city.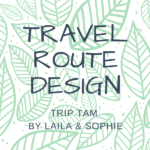 Discover our Travel Route Design services. Save time and take advantage of our community & personal experiences to design your unique itinerary. Learn more >