FAMILY VACATION TO HAWAII
SHARED BY LAILA
Once-in-a-lifetime trip to the Hawaiian islands: a breathtaking diversity of mountain landscapes, volcanoes & beaches.
After California and Maine, Laila and her family wanted to explore another state during their time as expatriates in the United States. They chose Hawaii because they didn't want excessively long driving distances during their trip. Thus, the average driving time from one place to another was 2 hours max.

Island-hopping was easy and quick thanks to good domestic flights

. Also, they considered it would be easier traveling to Hawaii from the US than from Europe. A non-stop flight with United or Hawaiian from NY will take you to Honolulu before you know it!

Hawaii's extraordinary biodiversity, ranging from volcanoes to magnificent waterfalls and colorful  beaches,

made this trip unique

. The family tried to

avoid the tourist-popular part of each island concentrating instead on the more authentic places

. They found charming lodging options that allowed them to basically stay away from the crowded all-inclusive resorts. 

Do enjoy this stunning itinerary created and tested by Laila and her family.

The budget for the whole trip was around

$ 3420 per person for 17 nights

(excluded food and activities) .
17 nights and 7 stops
$$
island hopping with domestic flights

All year round. Best months from July to march

island hopping & nature discovery
O'ahu: Honolulu
Kauai: Hanalei Bay
Kauai: Polihale Beach
Kauai: Koke'e State Park
Maui: Lahaina
Big Island: Volcano Park
Waikoloa Village
Hawaiian spirit
Hotel on Waikiki beach
Pearl Harbor
NEW YORK – HONOLULU
KONA-NEW TORK
10 hours
+ 
DOMESTIC FLIGHT & RENTAL CAR
3 domestic flights (o'ahu-kauai-maui-big island)


5 hours on the road & 3 hours in the air
7 stops
AVERAGE BUDGET PER PERSON


TOTAL  = $ 3420 /pp for 17 nights$ 840 pp for 17 nights 
$ 455 pp Hiking tour for 2 nights + 3 days all included (food, car and guide)

$1100 /pp intl flight 
$485 /pp domestic flights $540 /pp car rental
KOKE'E SP (KAUI) TO
MAKAWAO (MAUI)
+

70 km/1h30+40 min flight+20 km/20 min
MAKAWAO (MAUI) TO
VOLCANO PARK (BIG ISLAND)
+

35 min flight + 45 km / 40 min

BIG ISLAND: VOLCANO PARK 
TO WAIKOLOA VILLAGE

150 km / 2h
GOOD TO KNOW
---
Prepare or buy food in advance when going to Volcano Park & Hana road because there is nothing on hand nor in the area

Bring very warm clothing for evening sunset in Haleakala. It was windy and freezing cold!

One day in Honolulu was sufficient for us. It's very touristic, the main attraction is Pearl Harbor and Waikiki beach. 

Unfortunately the road was closed in Hanalei, Kauai island

and the National Volcano Park was closed on Big Island. We should have adapted slightly our itinerary to stay longer in Maui if we had known. We recommend you to check carefully the situation in Hawaii when you start planning your trip and adjust it in function of conditions. 

Kauai island offers great hiking trails. Beware that the trails can be very steep and strenuous. Tell your hiking guide if you have fear of heights!  Thrills are guaranteed!

Big Island was quite disappointing for us as the Volcano state Park was still closed and we were threatened by hurricane Lane. We didn't see what we should have seen. 

We loved the little surfer town Paia in Maui. Here is our list of favorite restaurants: Paia Fish Market & Café des amis. Another great restaurant is Nuka in the little town of Haiku (15 m drive from Paia). They serve delicious sushis and margaritas!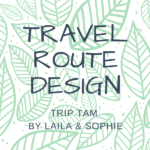 Discover our Travel Route Design services. Save time and take advantage of our community & personal experiences to design your unique itinerary. Learn more >