FAMILY VACATION TO BELIZE 
SHARED BY LAILA
An eco-friendly destination that combines beach and jungle life
Belize has always been on my bucket list. When you live in New York, it is an easy trip if you want

a one-week getaway

. There is a direct flight from Newark with United on Saturdays, but the returning flight includes a stopover. It is

a small country

, therefore it is easy to explore  in only one week.

You can easily combine beaches, jungle and Maya culture

in this one week trip. Belize is a very intimate country that will

take you back to nature, thanks to its exceptional location, abundant wildlife, and magnificent submarine activities

. The key attractions of this country include

luxuriant natural landscapes, Maya culture and temples lost in the jungle, not to mention hidden caves, rivers, waterfalls, beaches, possibilities of snorkeling and a warm and welcoming population

. Our budget for the whole trip was around

$ 1600 per person for 6 nights

(excluded food and activities).
6 nights & 2 stops
$$
260 km

from November to April

jungle & beach trip

Maya culture
The lodge
River activities
NEW YORK – BELIZE

4.30 hours – direct flights from Newark on Saturdays
$800
+
CAR WITH DRIVER + FERRY

4 hours on the road & 3h speedboat
2 stops
AVERAGE BUDGET PER PERSON


TOTAL  = $ 1600/pp for 6 nights$ 700 pp for 6 nights 
$ 100 pp for 1 day activity
$800 
transfer from Belize City to San Ignacio (round trip) included in lodging budget.

BELIZE CITY TO
SAN IGNACIO


130 km / 2h


SAN IGNACIO TO AMBERGRIS CAYE (SAN PEDRO)
+

130 km/ 2h + 1h30
GOOD TO KNOW
---
The roads are not in good condition . Therefore plan enough  time for transfers.

Consider domestic flights for your transfers as you will get there faster and flying is an attraction in itself: beautiful views of the sea from the plane

Stay at least 3 nights in the jungle to explore the area. There are so many activities to do that it's worth spending more time there and less at the beach. We would have stayed 4 nights in the jungle and 2 nights at San Pedro if we had known.

Beware of seaweed on the Belizean beaches. It has been washing  up in the Caribbean in unusually large amounts since 2011, but this year (2019) the largest volumes ever appeared on the shore, from Barbados to Mexico, with piles several feet deep stretching for miles, and dozens of meters out to sea. Hotels put a lot of effort into removing it. Not only it affects the beauty of the white sand beaches but the smell can be rather  unpleasant.

When it is windy there is not much to do in San Pedro as boats do not go out on the snorkeling tours/diving tours

Safety: Belize City has a reputation of  being unsafe. The Guatemalan border can also be risky as the two countries have an enduring  territorial dispute.

Make sure there is a pontoon in the hotel. Indeed swimming from the beach can be annoying due to the seaweeds that come into the beach every morning.

Snorkeling excursions in San Pedro  are getting very touristy. Try to leave early in the morning to avoid the crowds. Consider  booking a private tour. It's worth the extra dollars.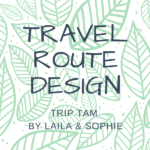 Discover our Travel Route Design services. Save time and take advantage of our community & personal experiences to design your unique itinerary. Learn more >