HELENE'S TRIP
TO QUEBEC, CANADA
Majestic Lakes, Breath-Taking Landscapes, and Pristine Wildlife.

Helene created a beautifully 15-day family road trip with 7 stops for her husband, their twin boys Edouard and Cedric , and their daughter Julie in August. The purpose of this trip was

to discover natural parks, t

he wildlife and

the countless lakes while avoiding touristy paths.

They wanted to experience

Quebec's pristine locations and hike in the magnificent surroundings

. To compliment their time in the wilderness, their last destination was  in Quebec City.

Unique locations, road trip, authenticity and minimum comfort were key points when planning this 1,600 km road trip

. They stayed an average of two to three nights per location and spent 24 hours on the road in total. Their budget for the whole trip was around

$ 1900 per person for 15 nights

(excluded food and activities).
15 nights and 7 stops
$$
1600 km

from May to October

road trip & nature discovery
St Alexis des Monts
Trois-Rives
Parc des Grands Jardins
Sacré-coeur
Matane
Rimouski
Ville de Québec
Montreal

Hiking
Swimming in the lake
Canoeing & kayaking
NEW YORK – MONTREAL

1h30 direct flight from NY
RENTAL CARS
1600 km in 15 days


24 hours on the road – 7 stops
AVERAGE BUDGET PER PERSON

$1900 / pp for 15 nights excl food + activities
$1500 /pp for 15 days (without breakfast)

$100 /pp $300 /pp

SAGUENAY TO
RESERVE DE MATANE


370 km/5h30


+

RESERVE DE MATANE TO
RIMOUSKI


130 km/1h30



RIMOUSKI TO
QUEBEC


320 km/3h20


GOOD TO KNOW
---
August is the perfect time to go to Quebec. Weather is usually warm which made swimming in the lakes a lot of fun.

The Quebecois are very nice and helpful people (especially if you speak French with them).

Be mindful and aware of the wildlife and especially the bears and moose in the parks. Don't forget to keep an eye out but remember to be respectful of their environment!

Be prepared for your hikes with picnics and plenty of water/drinks. Plan to stop at a grocery shops before leaving for a hike or before entering a reserve/national park.

Bring warm clothing as it can be chilly during the evenings.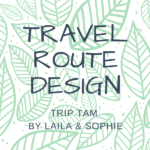 Discover our Travel Route Design services. Save time and take advantage of our community & personal experiences to design your unique itinerary. Learn more >