HELENE'S TRIP TO NORTHERN CALIFORNIA
Mountains, volcanoes and the Pacific Coast!

Helene created a beautiful 15-day family road trip with 7 stops for her husband, their twin boys Edouard and Cedric, and their daughter Julie. Grandparents, Jacques and Françoise, also joined the trip. The purpose of this trip was to discover

natural parks and the wild coast of California while going a little of the beaten path.

They wanted to experience

the natural beauty of the mountains and beaches and hike in the magnificent surroundings without the crowd.

They ended with a city trip in San Francisco and Carmel. Location and comfort were key when they selected the lodging for this family road trip, where they stayed an average of two nights per location. In 15 days, they drove a total of 2,225 km and spent 28 hours on the roads. They travelled in the early summer: June-July.Their budget for the whole trip was around

$ 2350 per person for 14 nights

(excluded food and activities).
14 nights & 7 stops
$
2225 km

from June to October

road trip & nature discovery
NEW YORK – SAN FRANCISCO
5 hours – direct flight

$550 per person
RENTAL CARS
2225 km in 15 days/14 nights


28 hours on the road – 7 stops
AVERAGE BUDGET PER PERSON

$2350 / pp for 14 nights all included
$1500 /pp for 14 nights (without breakfast)

$200 /pp for rental car & taxis $550 /pp
MOUNT SHASTA TO
FORT BRAGG

420 km/5h15
FORT BRAGG TO
SAN FRANCISCO


280 km/4h15

SAN FRANCISCO TO
MONTEREY


150 km/1h30

GOOD TO KNOW
---
We chose to spend most of our nights in rentals, it is cheaper than hotels, you have more space and you can cook (and eat healthier!). VRBO is, from our point of view, the best website for vacation rentals.

End of June was the perfect time to go to Yosemite, it's not too crowded. It is sometimes a little too early for Lassen Volcanic Park as there still can be a lot of snow (we couldn't do some of our planned hikes because of it), but on the other hand it was great to see all this snow.

It can be very foggy in San Francisco and on the Northern Californian coast in the summer… 

Mount Shasta is mind-blowing, if we had to do this trip again, we would stay there at least 3 or 4 nights. We might have skipped Monterey.

Be aware of the wildlife and especially the bears in the parks.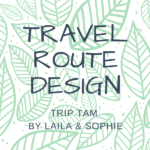 Discover our Travel Route Design services. Save time and take advantage of our community & personal experiences to design your unique itinerary. Learn more >