HELENE'S TRIP
TO UTAH AND ARIZONA
A Road Trip Through Nature with Breathtaking Scenery.
We created

a beautiful 10-day family road trip with eight stops

. The children's grandparents, Jacques and Françoise, also joined the trip. Our dream was

to discover the spectacular national parks in Utah, Arizona and Nevada.

We also wanted to experience the natural beauty of the parks and to hike in the magnificent surroundings. We stopped in Las Vegas to enjoy the unique gambling atmosphere of this legendary casino town.

Location and comfort were key

when we selected the hotels for

this multi-generational road trip

, where we stayed an average of one night per location.We travelled in April . Our budget for the whole trip was around 

$ 1200 per person for 10 nights (excluded food and activities)

.
10 nights & 7 stops
$
1700 km

from April to November

road trip & nature discovery
NEW YORK – LAS VEGAS

5 hours direct flight (more than 20 direct flights/day)
RENTAL CARS
1700 km in 10 days


21 hours on the road – 7 stops
AVERAGE BUDGET PER PERSON

$1600 / pp for 10 nights excluded food and activities
$900 /pp for 10 days (without breakfast)
$150 /pp for rental car & taxis
$550 /pp for rental car & taxis
AIRPORT TO
LAS VEGAS
10 km/20 min

LAS VEGAS TO
GRAND CANYON
445 km/6h

GRAND CANYON TO
PAGE
225 km/3h

PAGE TO
MONUMENT VALLEY
200 km/3h

GOOD TO KNOW
---
April is the best time of the year for this trip. It's not too hot and not crowded.

In the US National Parks, you will not find the most charming hotels. They are clean and practical. Some have great views.

The food tends to be boring and there is little variety, i.e. hamburgers and Caesar salads. Try to plan ahead and pick up a picnic and groceries on the way.

Restaurants close early, so plan on eating between 5 pm-7 pm.

Keep in mind that kids less than 21 years old are not allowed inside the Casinos.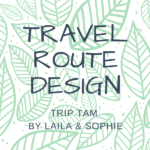 Discover our Travel Route Design services. Save time and take advantage of our community & personal experiences to design your unique itinerary. Learn more >