Nature, lava fields, waterfalls, ice and wildlife
"A breath of fresh air amid

great landscapes and total calm.

These are some of the features of this long weekend in Iceland, which took us to the South coast. We explored

its unique landscape through lava fields and fertile regions, with views of volcanos including the famous Eyjafjallajökull, and visits to glaciers, waterfalls and hot springs

. We also went on a magical

whale tour

. Our budget for the whole trip was around

$ 1000 per person for 4 nights

(excluded food and activities)."
4 nights & 4 stops
$$
1000 km

from May to September – Winter time for northern lights

road trip & nature discovery
NEW YORK – REYKJAVIK

5h30 direct flight from New York – 3h15 from most big European airports.
RENTAL CARS
1000 km in 5 days


20 hours on the road – 4 stops
AVERAGE BUDGET PER PERSON

$1000 / pp for 4 nights excluded food and activities
$500 /pp for 4 nights
$150 /pp for rental car for 5 days
$350 /pp for rental car & taxis
Keflavik Airport
Reykjavik
Jokulsarlon Glacial Lagoon
Vik
Reykjavik
GOOD TO KNOW
---
The weather is not always great in the summer, it was cloudy most of the time with some rain and a very little bit of sun (we traveled in July). From what we heard from Icelanders, the best weather is from May 15 till June 15.

Some roads can only be taken with a 4×4 but for a long weekend you don't need it.

The average temperature is 14-15°C in summer, wear the right clothes..

Food is good and quite healthy. Eat local (fish and lamb).

The Golden Circle drive is very popular.  Sometimes during summer, the road is packed with busses, and rental cars as are the parking lots by the three natural wonders. Start your tour early, around 6 am or 6:30 am.  A stop at any of the three attractions takes about half an hour to 45 minutes.

We planned to go to the Blue Lagoon geothermal spa, but when we arrived it was full. If you want to enjoy some time at this geothermal pool, don't forget to book your tickets in advance.

We loved this long weekend and we plan to go back for at least 10 days with the whole family. 

On your next journey across the Atlantic, take advantage of the option to stop in Iceland for up to seven nights at no additional airfare. www.icelandair.com

For this trip, we travelled as a couple but it would also be great as a family  and for a 1-2 weeks trip.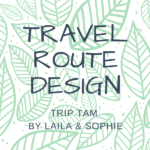 Discover our Travel Route Design services. Save time and take advantage of our community & personal experiences to design your unique itinerary. Learn more >