EMMA'S TRIP
TO BRITISH VIRGIN ISLAND
Nature's little secret: island hopping around 60 unspoiled islands

Emma, her husband and 3 kids Helena, Julie and Felix did a sailing trip in

the British Virgin Islands archipelago,

Comprising 4 main islands and many smaller ones, it's known for its reef-lined beaches and as a

sailing destination

. They chose this sailing trip to just

free their minds

for a couple of days,

enjoy the turquoise water

, and

experience life onboard a sailing boat

. If you are just happy to do nothing, just

read, swim, snorkel and have a good time

, this is a once in a lifetime trip for you. Taking this trip with another family is a very good idea as you can take the time to have

good meals and plenty of aperitifs

together in this paradise. Their budget for the whole trip was around

$ 2400 per person for 7 nights

(included food and activities).
7 nights & 6 stops
$$
2 hours daily sailing

from from December to June 

sailing trip
NEW YORK – TORTOLA BVI
ONE STOP VIA ST MARTIN/OR PUERTO RICO
5 hours with a stopover
AVERAGE BUDGET PER PERSON

$2400 / pp for 7 nights all included
$1400 /pp for 7 nights (based on a family of 5)
$1000 /pp 
Arrival and departure airport
5.
THE SETTLEMENT (ANEGADA)
TO MARINA CAY
3 hours sailing

6.
MARINA CAY TO
TORTOLA
1 hour sailing

GOOD TO KNOW
---
If you pass Necker Island on your way from or to Anegada Island (The Settlement) or to or from Tortola, try to stop for a swim as close as possible to the mainland. There is a very exclusive hotel of Richard Branson. When he visited Necker Island in 1978 he had a vision, one that has resulted in one of the world's most exclusive island retreats. Dream for 5 seconds!

Be prepared to live in a very simple way. The cabins and bathrooms are small but clean and well organized.  It's still a real luxury to sail around those heavenly islands.

Avoid Peak season between December and March. April to June is a great time to sail around the islands.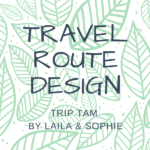 Discover our Travel Route Design services. Save time and take advantage of our community & personal experiences to design your unique itinerary. Learn more >