EnregistrerEnregistrer
EnregistrerEnregistrer
EnregistrerEnregistrer
EnregistrerEnregistrer
CHRISTINE'S TRIP
TO GUADELOUPE, FRANCE
Caribbean nature and wildlife.
 

" 

During the spring season, Christine and her family travelled to Guadeloupe. They were looking for

a paradisiac destination that is not too touristic

,

easy to organise, and cheap.

Guadeloupe was the perfect match. You

benefit from the French infrastructure but still enjoying the Caribbean atmosphere and climate.

They

climbed a Volcano

in the wildest part of the island, Basse-terre,

spent some time in the island's remote jungles

, and

niched in a cozy villa by the water

in Grande Terre. Their budget for the whole trip was around

$ 1270 per person for 7 nights

(excluded food and activities).

»
7 nights & 5 stops
$
200 km

from December to May

beach, jungle & volcano hiking
NEW YORK – POINT À PITTRE GUADELOUPE

5 hours
+ 
RENTAL CAR

200 km in 7 days
1 h boat trip to Island les Saintes
5 stops
AVERAGE BUDGET PER PERSON

TOTAL BUDGET: $1270 pp/ excl food & activities

$ 700 / pp for 7 nights excl. food and activities
$500 /pp international flight

  $70 /pp car rental
Deshaies Basse Terre
Trois Rivières
Point à Pittre
Island les Saintes
St François Haute Terre
POINT À PITTRE
DESHAIES-BASSE TERRE
50 km/ 50 min
DESHAIES BASSE TERRE
TO TROIS RIVIÈRES
 65 km / 1h30
TROIS-RIVIÈRES TO
ISLAND LES SAINTES
1 h by boat

ISLAND LES SAINTES TO
ST-FRANÇOIS GRANDE TERRE
+
40 min + 85 km/1h45

GOOD TO KNOW
---
People are nice. They speak French and you will benefit of the French infrastructure.

Very Good food in restaurants Mix of French and Caribbean cuisine.

Easy to do for a long weekend from the US east coast.

South of Grande terre is the touristy part with the big beaches. 

Basse Terre is much wilder.

Not worth to stay longer in Point à Pitre.

Don't miss to visit the island of Les Saintes if you plan a trip to Guadeloupe even for a one day trip.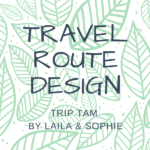 Discover our Travel Route Design services. Save time and take advantage of our community & personal experiences to design your unique itinerary. Learn more >