CAROLINE'S TRIP TO UTAH & NEVADA, US.
The real Western US road trip!
My father organized this road trip for us. He wanted to experience this famous wild west road trip with his 3 grand children. He loves organizing travel itineraries for his family. He will plan everything very narrowly. Nothing will be left to chance. We were amazed

by the numerous and amazing landscapes.

Every day, we could

explore another canyon

or

admire a scenic vista

. We mixed lodging

between RV and hotel rooms

. We

always ate breakfast in the hotel. less hassle as space in an RV is limited. This solution was great for everybody.

We went for a boat tour on Lake Powell, we went horse riding and hiking. It was important for us to plan

activities that were fun for all generations

. Our budget for the whole trip was around

$2605 per person for 11 nights

(excluded food and activities).
11 nights & 7 stops
$$
2105 km

from April to November

Western road trip
NEW YORK – LAS VEGAS

5 hours 30
RV RENTAL
2105

km in 11 days


25 hours on the road 
7 stops
AVERAGE BUDGET PER PERSON

TOTAL: $2605 / pp excl food and activities
 
$1455/ pp for 11 nights in hotels



$450 domestic flight (from NY)

$700 /pp for 11 days (based on 5 persons)
Williams
Page
Bluff
Moab
Escalante
Bryce Canyon
Las Vegas
Las Vegas Arrival airport
MOAB TO
ESCALANTE



340 km/4h

ESCALANTE TO
BRYCE CANYON



140 km /2h

BRYCE CANYON TO
LAS VEGAS



400 km/ 4h

GOOD TO KNOW
---
We rented an RV for one week through www.roadbear.com, starting from Las Vegas . 

We were very happy with the quality and the comfort of the RV.

We rented a 30 feet RV for our family of 7 including grand parents. The size was perfect knowing that the grandparents were sleeping every night in a hotel room.

With small kids, half a day hike in the Grand Canyon is sufficient. Taking the hike down the canyon is challenging for small kids, even for adults.

We travelled in April. The climate can be cold. Foresee a feather jacket for everyone.

On a road trip, you eat a lot of picnics. Foresee in advance all necessary material to make marvelous picnics.

William is the best spot to buy your grocery for the road trip. It's a good idea to start from there. There you will also find the best souvenir shops.

Grand Canyon is a must see but we were amazed by other canyons. The wow effect went crescendo during the trip. Therefore I would recommend starting with the Grand Canyon and not the other way round.

To experience the Antelope Canyons, you must go with a guided tour. 

Combining the RV experience with hotel nights for the grand parents was great. It's very nice to take a proper shower and eat in a restaurant from time to time.

This trip is a paradise for a photographer. Consider investing in good material. This is the perfect trip to improve your talent.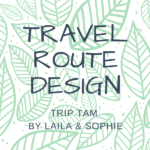 Discover our Travel Route Design services. Save time and take advantage of our community & personal experiences to design your unique itinerary. Learn more >