CAROLINE'S TRIP TO CALIFORNIA
The Pacific Coast from San Diego to San Francisco
Caroline's Travel Profile
The family of 4 lives in New York and are moving back to France this summer (2017)
Happy mum of Louis 11 years and Lucie 9 years.
She likes to find new adresses by herself and to discover restaurants spontaneously during her travel. 
She loves interior design and photography.
After having lived 4 years on the East Coast in NY, Caroline and her family didn't want to leave the US without visiting  the iconic cities of the US Pacific coast. They organized a 10 days family road trip from San Diego to San Francisco. They were amazed by the beautiful coastline, its cliffs that blend into the sea, the small creeks and the amazing sunsets along their way. They were more impressed by the beautiful coastline drive than by the cities itself. They loved the variety of landscapes, from the coastline to the dunes and to the very green in lands and hilly vineyards. They stayed mainly in Marriot hotels as they wanted to use their loyalty points. They would have chosen more charming hotels otherwise.
NEW YORK – SAN DIEGO
SAN FRANCISCO – NEW YORK
5,5  hours direct flight

$460 per person
RENTAL CARS
950 km in 8 days


10 hours on the road – 5 stops
AVERAGE BUDGET PER PERSON

$1660 / pp for 8 nights all included
$1000 /pp for 8 nights (without breakfast)
$200 /pp for Rental car SUV
$460 /pp for rental car & taxis
Pacific coast sunset
Gaslamp area in San Diego
La Bicyclette: a very charming restaurant in Carmel

Car Rental

950 km in 8 days
10 hours on the road
/5
 stops
Stop 1 to 2: 220 km /3h
Stop 2 to 3: 280 km/3h
Stop 3 to 4: 260 km/3h
Stop 4 to 5: 200 km/2h

MONTEREY TO
SAN FRANCISCO



200 km/2h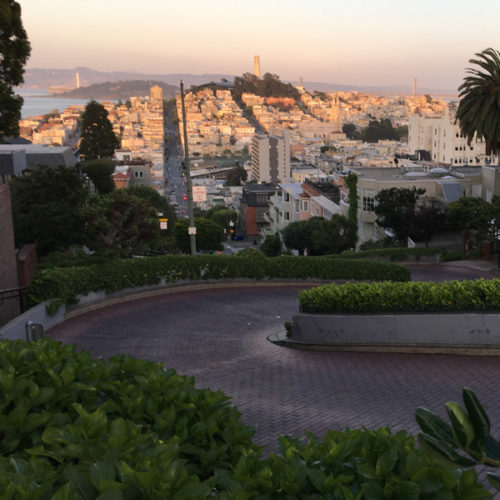 We visited Fisherman Wharf and walked up to Lombard street to admire the beautiful view on the bay of San Francisco.
 
We spent a day bicycling from San Francisco to the Golden Gate Bridge and down to Sausalito. It's a very nice ride and kids loved it.
 
We ate at the Spinmaker in Sausalito. We had a great diner in a chic 50's ambience. Recommending it for its fish and glass window overlooking the San Francisco bay.
 
We took the ferry back to San Francisco. We catched the one at 3h55 that stops in Tiburon and Angels Island. It was worth the stops, 1 hour in total. Angel island is a beautiful small creek.
 
We visited Alcatraz with a 45 minutes audio guide featuring stories of prisoners who lived there
 
Chinatown and  Dragon gate. Very typical. We really recommend the detour.



GOOD TO KNOW
---
Hollywood, Rodeo Drive and Beverly hills are a myth. It's nice to see but there is nothing particular to visit. One hour is sufficient

Venice beach: very awkward atmosphere. Nice beaches with families on one side and murky crowd on the beach walkway on the other side.

With kids and teenagers, a one day trip to Universal Studio is a must. It's really worth the budget. Front of the line ticket for Universal studio is highly recommended. Don't spend your day in lines. 

Maximun 3/4 nights in LA is enough.

We would have stayed 2 nights in Carmel by the sea  to enjoy the beach instead of staying in Monterey.

Fisherman wharf is a real tourist trap, similar to Disneyland Paris. It is totally fake. Very disappointing. 

We would have headed towards Tiburon instead of Sausalito for lunch when the crossed the Golden gate bridge.

Don't forget to make a reservation for a good restaurant in SF a Friday evening.

Alcatraz: take your tickets on internet before hand.

It's better to use Uber in San Francisco, rather than keeping your rental car.

We were happy to visit LA and SF but we were a little bit disappointed by both cities. For LA: very wide, no real city atmosphere. San Fransisco: we preferred the surroundings than the city itself that was dirty and touristy.