AURELIE'S TRIP TO YUCATAN, MEXICO.
Culture, farniente and beach time!
We love to travel but with our four kids from 3 to 9, it has been a while since we hadn't make an itinerant trip! Yucatan was the perfect destination for

a first family trip

. Everyone loved it! We wanted to share with our children

exciting moments of culture, nature discovery and beach fun

. The stop at Merida was great to have a real contact with

Mexican culture

and Tulum was the perfect place to jump in the waves for the kids and drink cocktails for the parents! We organized this eight days trip by ourselves, asking advice to a Mexican friend and spending hours on the internet. Our budget for the whole trip was around

$ 1525 per person for 8 nights

(excluded activities/food).
8 nights and 3 stops
$
705 km

from December  to May

Beach and cultural discovery trip.
NEW YORK – CANCUN

4,5 hours direct flight
CAR RENTAL
705 km in 8 days


8h15 hours on the road
3 stops
AVERAGE BUDGET PER PERSON

TOTAL:  $ 1525 / pp for 8 nights 

$ 700 /pp
$700 /pp $125 /pp
Chichen Itza Visit of the Mayan ruins 
Swimming in a cenote (natural water pit)
CANCUN AIRPORT TO
CHICHEN ITZA
205 km/2h15
CHICHEN ITZA TO 
MERIDA
120 km/ 1h30

MERIDA TO 
TULUM 
260 km/3 hours

TULUM TO 
CANCUN INTL AIRPORT
120 km/1h30

GOOD TO KNOW
---
Be aware that he entire coast of the Caribbean side is invaded by the Sargassum alga (seaweed). Sometimes there is so much that you can't swim. if we had to go there again we would select an hotel on the beach with a swimming pool.

October is the rainy season. A lot of restaurants are closed in Tulum during that period because it is the low season. 

We recommend to take a guided tour for the Mayan Sites.

It is easy to visit the Uxmal archeological site when you are staying in Merida. It will take you 1 hour (86 km) to go there. Therefore, plan ahead an extra night in Merida if you want to visit Uxmal.

After many archeological temple visits, you can take the kids for a half day trip to

Xcaret

amusement park. It is only 45 min from Tulum (60 km)

Make sure you buy a detailed road map when you rent a car.

This is a perfect destination for families, even with small kids. It's easy and safe.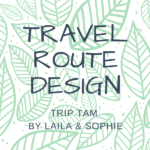 Discover our Travel Route Design services. Save time and take advantage of our community & personal experiences to design your unique itinerary. Learn more >