SOPHIE'S FAMILY TRIP TO YUCATAN, MEXICO
Culture, beach and diving

Sophie and Fabrice traveled to Yucatan, Mexico during Christmas holidays with their 2 teenager girls Julie and Margaux. They wanted

to start and finish the holidays with some beach time

. Additionally, they experienced

diving and snorkeling

in the south of Yucatan. During this relaxing time, they had the chance

to connect with the locals

in a much more laid-back, non-touristic way throughout their hosts. During the entirety of their trip, they visited

3 Maya sites

that helped them understand more profoundly

Maya's history and culture

. Those 16 days were very cool and culturally rich. At the same time,

they enjoyed paradisiac views and amazing turquoise water.

  Their budget for the whole trip was around

$ 1400 per person for 16 nights

(excluded food and activities).
16 nights & 8 stops
$
1400 km

from December to May

Beach trip & cultural discovery
ABOUT SOPHIE:

a painter, Sophie lives in Brussels, Belgium, with Fabrice, and two teenage daughters. She enjoys family time: games, discussions, good food and discovering local cultures through their hosts (B&B, small family hotels, special lodging, etc…) During her holiday, she plans enough time to relax and combines this with a favorite family activity: diving/snorkeling or hiking. She loves to mix original and adventurous lodging places with more comfortable hotels or rentals.
WHAT SOPHIE LOVED ABOUT THIS TRIP
Our hosts. They helped us to discover Maya culture


Snorkeling in Mahahual
Ek Balam Maya site
BRUSSELS – CANCUN
ONE STOP (VIA TORONTO)
10 hours flight with one stop
RENTAL CARS 
1200 km in 16 days


17 hours on the road – 8 stops
AVERAGE BUDGET PER PERSON

$ 1400 / pp for 16 nights TOTAL  
$ 600 / pp for 16 nights (excluded food and activities)

$ 200 / pp for rental car & taxis $ 600 / pp 
Cancun - Airport - Stopover night
Bacalar Lagoon Resort
Mahahual Nacional Beach Club
Santa Elena, The pickled Onion B&B
Chichen Itza
Valladolid
Macario Gomez
Sian Kaan
GOOD TO KNOW
---
Tulum and its Maya site are not worth a stop. For us, it has become too touristic and artificial. There are so many other Maya site to discover in the region.

We strongly recommend to have your own car through a rental. In Bacalar, our hotel was very remote and we appreciated our freedom.

We were amazed by the friendliness of the Mexican population even in the more touristic areas.

We met Mexican tourists in their own country. We felt integrated with the local population.

The roads are in good conditions.

We felt safe during our whole trip.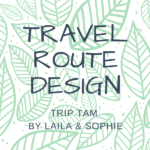 Discover our Travel Route Design services. Save time and take advantage of our community & personal experiences to design your unique itinerary. Learn more >