SANDRINE'S TRIP
TO YUCATAN, MEXICO.
Cenote-Diving-Mayan culture
Sandrine and Stéphane, with their twins Lise & Guillaume, went for a 8 days trip to Yucatan. They were looking for a change of scenery and sunshine in winter. They enjoyed

Mayan culture, diving in the Cenotes, Tulum's white sandy beaches, good food, and the warmth of the locals

.

They discovered

the unique Chichen Itza site

. It is the 2nd most visited archeological site of Mexico today and one of the new seven wonders of the world. They traveled in April. Their budget for the whole trip was around

$ 1560 per person for 8 nights

(excluded food and activities).
8 nights & 4 stops
$
610 km

from December to May

beach trip & cultural discovery

WHAT SANDRINE LOVED ABOUT THIS TRIP

Posada Margherita hotel
Holbox island
Gran cenote (a natural sinkhole created where a cave ceiling has collapsed)
NEW YORK – CANCUN

4 hours direct flight

$500 pp
RENTAL CARS
610 km in 8 days


6 hours on the road – 4 stops
AVERAGE BUDGET PER PERSON

$1560 / pp for 8 nights (without food and activities)
$910 /pp for 8  nights (without food and activities)
$500 /pp $150 / pp for 8 days
Tulum
Valladolid, Yucatan
Chichén-Itzá Maya temple
Holbox island
Cancun Departure and arrival airport
AIRPORT CANCUN TO
TULUM


122 km/2h

TULUM TO
VALLADOLID


107 km/1h30


VALLADOLID TO
CHICHEN ITZA


45 km/0h45


CHICHEN ITZA TO
ISLA HOLBOX


160 km/2h

GOOD TO KNOW
---
– Staying in Valladolid to visit Chichen Itza  is a very good idea. You avoid the touristic and crowded town of Chichen Itza.
– It's worth to get up early to drive to Chichen Itza to avoid the crowd again and to be the first to enter the park
– Many many Cenotes (a natural sinkhole created where a cave ceiling has collapsed) in this area…just stop in function of your inspiration in one of them. You might discover a hidden secret far from the crowd.
– Our favorite Cenote with the nicest view was the Gran Cenote.
– Be aware that many Boutique Hotels in Holbox are adults only.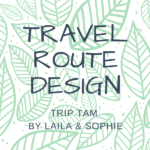 Discover our Travel Route Design services. Save time and take advantage of our community & personal experiences to design your unique itinerary. Learn more >