SANDRINE'S TRIP
TO HAWAII, US.
Island life: diving, sea world & volcanoes.



"We traveled to Hawaii during summer, which was

an unforgettable experience

for the whole family. We visited two islands:

Big island and Maui island

. The first one is a must-see. On this island

we discovered several ecosystems

: everything

from the desert to the alps to a rain forest

. This trip was very rich in experiences and activities:

volcanoes, a diving tours, snorkeling, hiking, sea wildlife

…all while devoid of tourists. Our budget for the whole trip was around 

$ 3500 per person for 14 nights

(including 3activities) "
14 nights and 4 stops
$$
Small driving distance on the island

All year long: best months are from July to March

nature trip & sea wildlife

WHAT SANDRINE LOVED ABOUT THIS TRIP

Diversity of landscapes & ecosystems
Easy access to marina wildlife.
Green, red, black & gold beaches
Walking on boiling lava…
Good food & lovely people
Black and green beach
Snorkeling
Whale watching & swimming with dolphins
NEW YORK – HONOLULU (O'AHU)- KONA (BIG ISLAND)
KAHULUI (MAUI) – HONOLULU (O'AHU) – NEW YORK
14  hours flight with a stopover in Honolulu

+  
DOMESTIC FLIGHT & CAR
Small driving distances – 4 stops


Domestic flight of 40 min between Maui island and Big Island
AVERAGE BUDGET PER PERSON

$ 3500 / pp for 14 nights

$ 1600 /pp for 14 nights (including  3 activities and lodging)
$ 400 /pp for car rental $ 1500 /pp including domestic flights
GOOD TO KNOW
---
– We recommend to book the boat tours early in the morning as they fill up quickly during the summer months. You will then catch an early boat, that is far less crowded than the one's leaving later in the morning. Enjoy for the same price a tour with fewer people…perfect for early birds!  
– When heading to the green beach on Big Island, don't drive yourself the last four kilometers but hire a local guide (they are waiting for you) to bring you to the right place. You can also walk if you have sufficient time and water.
– When heading to

the red beach

in Maui,

you need to pass by a school at the end of a dead end street. Don't stop at the first little red beach , there is a much bigger one a few hundred meters further!
– Please note that no tourist companies will bring you to those beaches, so rent your car and go for it. It is really worth it.
– Big island is big…plan several stops in your trip itinerary on that island to get the most out of your visit. We made 3 stops there.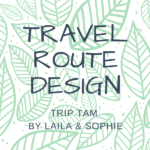 Discover our Travel Route Design services. Save time and take advantage of our community & personal experiences to design your unique itinerary. Learn more >