LAURENT'S WEEKEND SKI BREAK  TO TELLURIDE, COLORADO, US.
Laurent's Travel Profile
ACTIVE FAMILY HOLIDAYS
SKIING, TENNIS, WAKEBOARDING
NEW CULTURE & ADVENTURE
ECOLODGE, CHARMING HOTELS, B&B
COMFORTABLE AND EASY

FREQUENT TRAVELER: LIVED IN MANY COUNTRIES
Advanced skiing in a far west atmosphere. 



Along with 15 friends, we travelled  to Telluride for a long ski weekend. The combination of incredible skiing and after ski ambience made this trip unique. Telluride is a top notch north American ski resort with amazing landscapes and challenging ski trails. 



Arrival airport: Montrose Regional Airport, Colorado



Departure airport: New York 
5 hours direct flight with United only
on Saturday and Sunday.
Stop over needed if you travel weekdays
(via Denver, Chicago or Dallas)
Check the airport website for accurate schedules.


Total/person: 2065 $ for 4 nights
Lodging: 800 $/pp for 4 nights,
Flights : 800 $/pp (1 stop & direct flight)
Local transport (taxi): 110 $/pp (shared ride)
Ski Tickets : $355 per adult (for 3 days)


MONTROSE AIRPORT TO
 TELLURIDE


60 miles/2h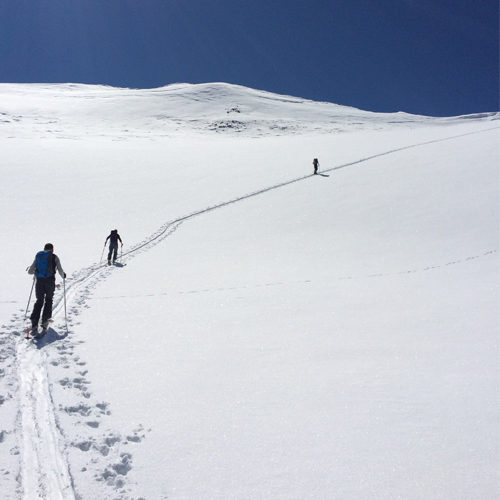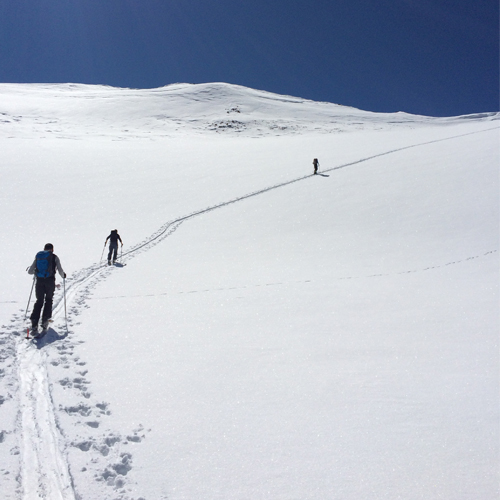 We stayed at Camels Garden Hotel. The location is perfect, next to the ski lifts (15 feet). The rooms are comfortable but not charming. I would come back with my family as the location is perfect.

TELLURIDE
SKI AREA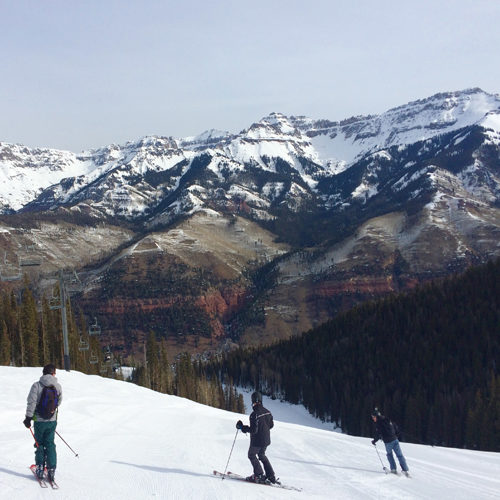 We hired a guide to take us on a 1-day ski mountaineering hike. It was fabulous. We climbed with our skis and sealskin up to 4000 m (13.000 feet). From there we could enjoy 2000 m (6500 feet) of vertical drop downhill. We skied to a small place called Ophir. From there the guide drove us back to Telluride village. We passed alongside the famous Joaquin Ridge and Wasatch mountain.

 TELLURIDE
RESTAURANTS


New Sheridan Bar: 
A typical far west bar. We had a few drinks there! Great after ski ambience. There are concerts from time to time and a playroom. A lof of fun for a boys weekend.
GOOD TO KNOW
---
The resort is located at an elevation of 8750 feet or 2667 m. It will take you some time to adjust to it. 

Early flight booking is needed to ensure reasonable pricing.

It's a challenging ski terrain. I would choose another ski resort for beginners.

The access to the resort is not easy. The closest airport is a regional airport with few direct connections. The skiing experience is certainly worth the hassle to get there.

If you go off the beaten track, don't forget to hire a mountain guide. The terrain is challenging and full of surprises.

My preferred internet sites to compare several ski resorts and to get the latest snow reports: 
On the snow & Powderhounds.
Don't forget to post your last trip on triptam.com. 




Give the opportunity to your friend and our travel community to enjoy your last itinerary.