LAURENT'S WEEKEND SKI BREAK  TO TELLURIDE, COLORADO, US.
Advanced skiing in a far west atmosphere. 
Along with 15 friends, we travelled  to Telluride for a long ski weekend. The combination of incredible skiing and after ski ambiance made this trip unique. Telluride is a top notch north American ski resort

with amazing landscapes, incredible mountain views and challenging ski

trails.

This resort has over 50% beginner and intermediate runs. The top of the resort features primarily expert and advanced terrain. This makes it a perfect destination for families and larger group of friends with various ski levels. Snow Magazine describes the resort perfectly:
"Telluride is an old gold- and silver-mining town, filled with history and with many attractive Victorian-era buildings; it's relatively upmarket yet unpretentious, a lovely place to stroll around and just the right size to have enough shops, cafés, bars and restaurants to lend it a friendly laid-back ambiance, without feeling too sprawling or lacking in soul."
Our budget for the whole trip was around

$ 2065 per person

for 4 nights

(excluded food and activities).
4 nights & 1 stop
$$$
220 km

from December to March

ski trip
NEW YORK – DENVER – MONTROSE REGIONAL AIRPORT
TAXI
Transfer from airport –

220 km km in 4 days


2h -110 km (one way)
AVERAGE BUDGET PER PERSON

TOTAL BUDGET:  $2065 / pp for 4 nights excluded food & activities.

$800 /pp for 4 nights 

$800 /ppSki pass: $355 per adult for 3 days  $110 /pp  (shared ride)
A snapshot
Montrose regional airport
Ski resort Telluride
MONTROSE AIRPORT TO
 TELLURIDE


110 km- 2h
GOOD TO KNOW
---
The resort is located at an elevation of 8750 feet // 2667 m. It will take you some time to adjust to high altitude. Beware of  mountain sickness. The symptoms can feel like a hangover  dizziness, headache, muscle aches, nausea 

Early flight booking is needed to ensure reasonable pricing.

The access to the resort is not the easiest one. The closest airport (2 hours drive to Telluride) is a regional airport with few direct connections. The skiing experience is certainly worth the hassle to get there. You will also enjoy less crowded ski slopes compared to other more accessible resorts like Vail, Aspen, Beaver Creek.

If you go off the beaten track, don't forget to hire a mountain guide. The terrain is challenging and full of surprises.

My preferred internet sites to compare several ski resorts and to get the latest snow reports: 


On the snow & Powderhounds.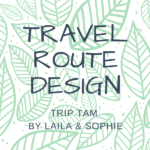 Discover our Travel Route Design services. Save time and take advantage of our community & personal experiences to design your unique itinerary. Learn more >