LAURA'S TRIP TO NEW ORLEANS,  LOUISANA, US.
A vibrant city, full of culinary delights and jazz on every corner
New Orleans, LA (NOLA) is

a fascinating multicultural city

, rich in history. Famous for

its great culinary scene

as well as

its exciting musical atmosphere

, NOLA has plenty to offer. Heavily influenced by successive waves of colonization (French, Spanish) and by its multicultural inhabitants, the city is a fascinating example of a melting pot. If you are interested

in architecture, history, food and music

, NOLA is the place for your next girlfriends' trip or for a romantic escape. This trip includes a choice of great restaurants on NOLA. This can also be a fun trip with teenagers. Less recommended with little kids. Our budget for the whole trip was around

$ 1100 per person for 3 nights

(excluded food and activities).
3 nights & 1 stop
$$
0 km

from September to June

City trip

WHAT LAURA LOVED ABOUT THIS TRIP
The architecture in the French quarter
The unique lively atmosphere
The history of the city
NEW YORK – NEW ORLEANS


3,5  hours direct flight

TAXI
30 km from arrival airport & walking 10.000 steps each day 🙂


0,30 min
AVERAGE BUDGET PER PERSON

$1100 / pp for 3 nights excluded food and activities
$600 /pp for 3 nights
$500 /pp
International house hotel in the Business district
Garden district
French quarter
GOOD TO KNOW
---
We would recommend staying in the French quarter for your first visit. The

W Hotel

is a good option.  If you want something quieter, the business district is the up and coming area to discover.

NO CAR REQUIRED unless you want to get out of the city to visit a plantation. This is the city to do your daily 10.000 steps !

Be ready to splurge on restaurants.

The garden district is also very beautiful, might be an option if you travel with younger kids.

A must see: the rotating bar of the Monteleone hotel where Truman Capote used to stay during his visits to his hometown NOLA.

Instead of Bourbon street, Laura really enjoyed Royal street with a lot of art galleries, antiques and fashion stores.

The best time to visit New Orleans is from February to May when the weather is comfortably cool and the celebrations are in full swing. If you're not interested in Mardi Gras mania, plan to visit in December or January, when the city is calm and you don't have to worry about making hotel reservations a year in advance.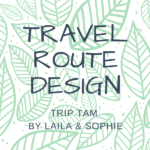 Discover our Travel Route Design services. Save time and take advantage of our community & personal experiences to design your unique itinerary. Learn more >
EnregistrerEnregistrer
EnregistrerEnregistrer
EnregistrerEnregistrer