Discovery, culture, surf and diving!
For this trip their goal was

to mix the discovery of a new country and its cultures, and to be able to surf, wakeboard and dive

…They chose Panama because they wanted to meet the Kuna Indian, native people living on the San Blas Island, a bit north of Colombia.

They were also fascinated

by visiting the Panama canal and to water sport in Santa Catalina

. Their budget for the whole trip was around

$ 1110 per person for 8 nights

(excluded food and activities).
8
nights & 5 stops
$
820 km

from December to April

Water sport & cultural discovery
ABOUT HELENE: Family of five: Rui and Helene, Iona, Milo and Taj. They are used to travel in exotic places and they all love sports and activities while traveling.  They are a multicultural family and all speak Spanish fluently. They used to live in Puerto Rico, Morocco and Mexico. The family is now back in Paris.
WHAT HELENE LOVED ABOUT THIS TRIP
Their day trip to San Blas Island
Visit of the Panama canal
Santa Catalina Peninsula
EnregistrerEnregistrer
Meeting the natives, the Kuna's
Island hopping and snorkeling
NEW YORK – PANAMA CITY

5,5  hours direct flight

+ 
DOMESTIC FLIGHT + RENTAL CAR
820 km in 8 days


2 hours flight to San Blas (round trip)
AVERAGE BUDGET PER PERSON

$1110 / pp for 8 nights

$550 /pp for 8 nights 

$60 /pp for 8 days $500 /pp
Panama Canal
Just a quick stop-over
San Blas islands: 1 hour flight with Air Panama
El Valle Anton
Santa Catalina
EL VALLE TO
SANTA CATALINA


220 km/4h

There are 5-star and chain hotels in Panama City but the rest of Panama is mostly B&Bs, boutique hotels, lodges, and other independent style hotels.

The US dollars can be used in Panama.

Panama is a safe and clean country. People are welcoming.

Santa Catalina is very remote, still authentic place with small, simple hotels…I would definitely go back.

Beware that you will need to show your passport when you transfer from Panama City to the Guna Yala territory so keep it handy.

San Blas islands are very rustic. Don't expect any comfort while staying there. No restaurants or bars are to be found there. Be prepared to be disconnected from the outside world during your stay there.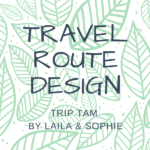 Discover our Travel Route Design services. Save time and take advantage of our community & personal experiences to design your unique itinerary. Learn more >