ELEONORE'S TRIP
TO YELLOWSTONE & GRAND TETON, US.
A Taste of Great Outdoors !

Eleonore's family loves great outdoors and adventurous activities.Wyoming was a perfect summer destination. 

From mountains, geological diversity to hundred of animal species

!

 We were amazed by the variety of landscapes and the animals that we discovered. It is a must see Natural Wonder.  We discovered some amazing hikes and we loved our recreational van experience. Our kids will never forget it.

Our budget for the whole trip was around $ 1040 per person for 10 nights (excluded food and activities) .
10 nights and 8 stops
$
1680 km

from May to October

road trip with RV (Recreational Van) & wildlife
ABOUT ELEONORE: She lives in Westchester, New York, US, but she is originally from France. An active women, she loves cooking, playing with her kids and doing sport with her friends. She travels often with other families with young kids
Local culture, good food and discovery are important ingredients for a successful trip They like great outdoors and adventurous activities 
WHAT ELEONORE LOVED ABOUT THIS TRIP

Mammoth Hot springs
Float trip in Jackson Hole
Jenny Lake trail
Hundred of animal species
Bear Lake
Jackson Hole
Colter Bay Grand Teton
Madison Campground, Yellowstone
Mammoth Hot Springs
Canyon Village
Bridge Bay
Salt Lake City: Airport
Idaho Falls
NEW YORK – SALT LAKE CITY

5 hours- 15 direct flight from all NYC airports
RV RENTAL
1680

 km in 10 days


24 hours on the road 
8 stops
AVERAGE BUDGET PER PERSON

TOTAL: $1040 / pp excl food and activities
 $80 / pp for 10 nights = Campgrounds
 $ 520 / pp for 10 nights = RV Rental
 $440 / pp

RV RENTAL: GOOD TO KNOW
– We rented an RV for ten days through www.cruiseamerica.com, starting from Salt Lake City. 
– We rented a 30 feet RV for our family of 5. The size was perfect. I would not have taken a bigger one as most of the campsites accept
no RV bigger than 30 feet. 
GOOD TO KNOW
---
Yellowstone can be cold in August. Don't forget sweaters and jumpers. The nights are really cold. 

Make sure you always go to the visitor center. They will help you with your hiking trails. Don't forget to take their Junior Rangers Books for your kids. 

Foresee enough water when you are hiking. Bring good hiking shoes as well as a backpack. This is important to plan in your holiday luggage.

In Yellowstone, almost all campgrounds do not have laundry and shower facilities. 

Your time on the road can vary dramatically as you will very often meet a herd of bison. 

On stop 4 from Grand Teton to Yellowstone Madison, I will suggest to make it as a day trip as there is a lot of sights on the way. 

Make sure you plan ahead your menus while shopping before entering into the National Parks. You will only find the basics in the grocery stores of the park. 

Check also this website that provides tips for saving on your next vacation to a National Park: list of fee free days, off season dates and lodging tips.

If you want to avoid peak periods, it is recommended to plan this trip either in May/June or September/October.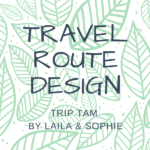 Discover our Travel Route Design services. Save time and take advantage of our community & personal experiences to design your unique itinerary. Learn more >