CLAIRE'S TRIP TO CALIFORNIA
Californian road trip: from San Francisco to Los Angeles


During Spring Break the family went to California. From San Francisco, they started

their RV road trip

to

Yosemite and along the Pacific coast

with the grandparents. They loved the variety of landscapes and activities but most of all the RV experience with their Kids. They did

a lot of hiking, climbing, and quad in the dunes

. Their budget for the whole trip was around  

$ 770 per person for 12 nights

(excluded food and activities).
12 nights and  6 stops
 $
1800 km
From March to November
Recreational Van (RV) road trip & nature
San Francisco
Yosemite Park
Stop over on our way to Joshua Park
Joshua Tree NP
Malibu Beach
Pismo beach
Muir Woods National Monument
Beach
Mission district
Alcatraz island
NEW YORK -SAN FRANCISCO
LOS ANGELES – NEW YORK
5,5  hours direct flight

RV
1800 km in 12 days


20 hours on the road – 6 stops
AVERAGE BUDGET PER PERSON

$770 / pp for 12 nights

$160 /pp for 8 nights (without breakfast) + 4 nights stay in family house (for free).

$150 /pp for RV rental $460 /pp
JOSHUA TREE TO
MALIBU BEACH



300 km/3h
MALIBU BEACH TO
PISMO BEACH



480 km/5h ROUNDTRIP
GOOD TO KNOW
---
On our day trip to Pismo beach, we would have explored the Guadalupe Dunes Park. Same kind of Dunes as Pismo but only allowed for hiking. We would highly recommend taking the time to visit those dunes as well, only 15 minutes from Pismo. Beware that the park is closing at 5 pm.

The Quad in Pismo Beach is accessible for kids from the age of 6. 

Free entrance in Yosemite Park during Easter weekend. Beware of heavy traffic in the park.

During Easter, some roads are closed. Be aware of it and plan your trip accordingly. Only one entrance possible to access the Yosemite park during April: west side of the park via Mariposa.

We had to skip Sequoia Park because of road closure and snowy conditions. 

There are campgrounds everywhere along the road. If you have a long route ahead of you, it is easy to stop without reservations.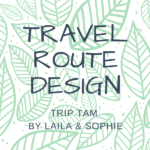 Discover our Travel Route Design services. Save time and take advantage of our community & personal experiences to design your unique itinerary. Learn more >