CELINE'S TRIP
TO YUCATAN, MEXICO.
Relax on Warm Beaches Surrounded by Mayan History
Celine created a personalized and colorful eight days family trip to Yucatan. They didn't have much time, but they fulfilled the objective of visiting

the famous Mayan sites in the area close to Cancun and to enjoy the white sandy beaches

after a long winter in New York. They enjoyed

Mayan culture, Tulum's white sandy beaches, good food, and the warmth of the locals.

They stopped in four places and didn't drive too much during this eight day trip. This itinerary is from April. Our budget for the whole trip was around $ 1410 per person for 7 nights (excluded food and activities).
7 nights and 4 stops
$$
710 km

from November to May

Beach trip & cultural discovery
ABOUT CELINE: Celine and her family live just outside Paris, France and used to live in New York, US.  They have 4 kids aged from 6 years to 15 years. Good food is a must and they prefer to stay in small, charming and well-decorated hotels, which have of course to be kid-friendly. Active holidays mixing cultural discovery with some relaxing time. Vacation time is also an opportunity to try new sports.

WHAT CELINE LOVED

ABOUT THIS TRIP

Lunch in Merida: La Chaya
Local market in Merida: Lucas Galvez Market
Beach breakfast: Posada Margherita  Combine culture and beach time

Beach time
Tulum Maya site
NEW YORK – CANCUN INTL

4 hours direct flight
RENTAL CARS 
710 km in 8 days


9,5 hours on the road – 4 stops
AVERAGE BUDGET PER PERSON

$1410 / pp for 8 nights all included
$760 /pp for 8 nights (without breakfast)

$150 /pp for rental car & taxi $500 /pp 
GOOD TO KNOW
---
– Be aware that he entire coast of the Caribbean side is invaded by the Sargassum alga (seaweed). Sometimes there is so much that you can't swim. if we had to go there again we would select an hotel on the beach with a swimming pool.
– The roads are in good condition and are very safe. You will need to stop at several security checks on the way to Tulum. From Cancun airport to Tulum we had a very kind taxi driver and we paid $140 for a big car, which accommodated the whole family. 
– Plan your airport transfer ahead and negotiate a fixed price.
– The Maya coast is very expensive. Restaurant selection has to be done very carefully to make sure you get the good Mexican food at a fair price.
– Wake up early to visit the ruins. It is written in every guide and it is crucial to do so. If not, the sites are fully packed with touristic buses and it looses its beauty and charm.
– We would have arrived very late in Chichen Itza the day before the visit and departed directly after the visits. There is nothing else to do there and the restaurants are not authentic.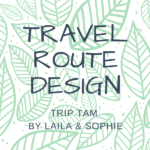 Discover our Travel Route Design services. Save time and take advantage of our community & personal experiences to design your unique itinerary. Learn more >