Nature at its purest!



Carmo wanted to organise this once in a lifetime family trip during their Christmas holidays. The Galapagos archipelago was their first motivation to visit Ecuador. They were amazed by the wildlife and all the various animal species that you don't see anywhere else in the world. Ecuador is known for its biodiversity and sceneries are breathtaking. The variety of scenery in Galapagos combined with the wild volcano sceneries in the inland and the historical center of Quito made this trip unique. 
Carmo's travel profile
Mum of 2 teenagers, Helena and Tomas.
She has lived 4 years in NY, US and is moving to London this summer. 
She loves to organize trips that are mixing cultural discovery with outdoor activities and a touch of farniente.
She loves hiking, outdoor activities and to interact with the local population.



Arrival airport: Quito


5h30 hours direct flight from NY JFK with Tame
or 10 hours with a stop over in Miami or Atlanta
Wide choice of timing and fare with a stopover.
Our hotel in Riobamba
The cruise in Galapagos archipelago

Horse riding in the surroundings of Cotopaxi volcano.



Total/person: 3900 $ for 13 nights
Intl Flights: $ 1000
Lodging: 800 $/pp for 9 nights (incl. food)
Galapagos Cruise: $ 2800/pp
(incl. round trip domestic flight):
Local transport: $ 100/pp


+

 


Domestic flight to Galapagos
Stop 2 to Stop 3 to Stop 4
2 hours flight-No direct flight from Quito – Most flights are via Guayaquil
Arrival airport:  San Cristobal or Santa Cruz

Car with a driver
700 km in 9 days
12h15 on the road/6 stops

From Quito intl airport to Stop 1: 45 km/ 1 h
Stop 1 to Stop 2: 35 km/1h
Stop 4 to Stop 5: 60 km /1h
Stop 5 to Stop 6: 230 km/3h30
Stop 6 to Stop 7: 175 km/3h
Stop 7 to Quito intl airport: 115 km/1h45




PAPALLACTA TO
CHUGCHILAN



60 km/1h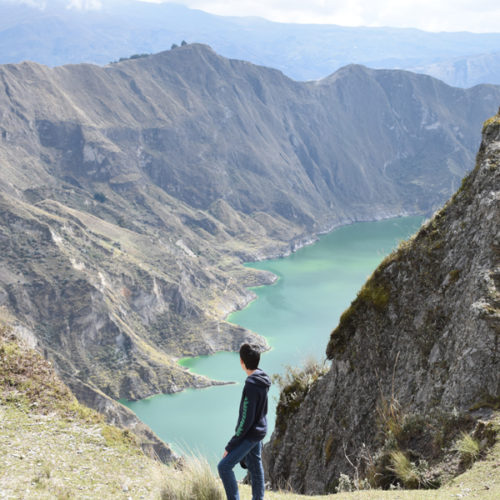 We slept in a small village. The bed and breakfast was very basic but welcoming, Hostal Mama Hilda . Make sure your room has heating and that it works.

 
The Quilotoa loop: Start the hike very early in the morning to enjoy the clear sky as the sky covers during the day. 
 
We drove to the top of the crater situated at 3800 meters of altitude and then hiked back to the hotel in 

Chugchilan

, about 5 hours.

CHUGCHILAN TO
RIOBAMBA



230 km/3h30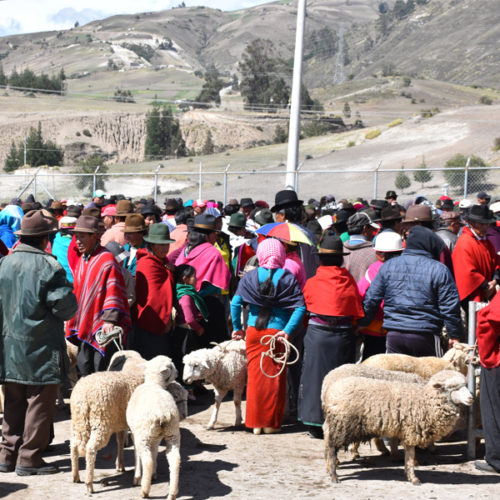 We went by car to the volcano Chimborazo. On the way up, we saw vicunas running around. The vicunas are of the same family as the lamas but can only be found in the Andes.
 
The car takes you to the first refuge at 4800m. It's snowing up here. After a real local meal, we went up to 5000m. Only 200m but it takes longer than you think. It was very hard to walk in such high altitude! 
 
The next day,  we visited the small town of Riobamba and went to the local market of Guamote. This is a very local and authentic market with hamster, lama, poultry, vegetables, fruits, wool, kitchenware, etc… Communities all around come here to exchange their products.
 
In the afternoon we went to a community that raises lamas and uses all parts of the animal (wool, meat, bones, etc) for their daily lives. We tried lama meat which tastes like beef and went for a walk with a lama. 

 

RIOBAMBA
COTOPAXI



175 km/3h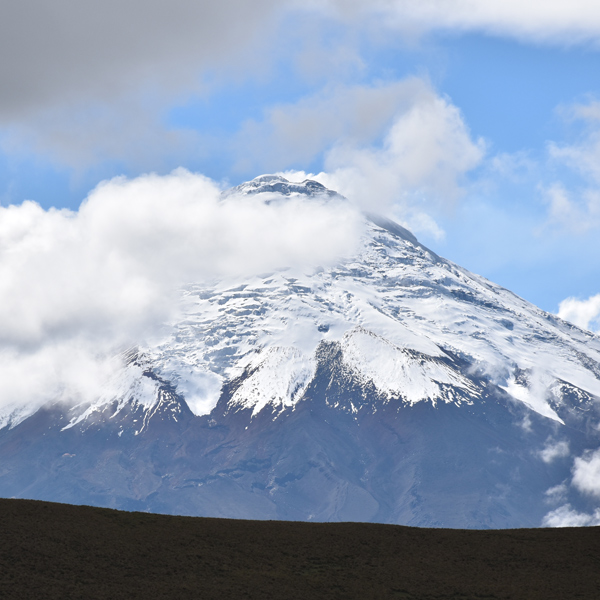 Hotel in the region of Chimborazo – Hacienda Santa Ana, We stayed at a Hacienda with horses and lamas. Children (and adults) are invited to feed them. 


Today we drove to the National Park of the Cotopaxi, a volcano which lies at 5897m.  

We stopped at Ambato for lunch and we tried the local dish – Llapingachos – in the central market. It was very interesting to discover the local habits, far from the tourist crowds.

Early the next day, we went horseback riding. We went up to the nearby mountains where we could observe the Cotopaxi, wild horses and other animals of the paramo. We took a picnic and ate with a beautiful view of the volcano.

 

COTOPAXI
AIRPORT QUITO



115 km/1h45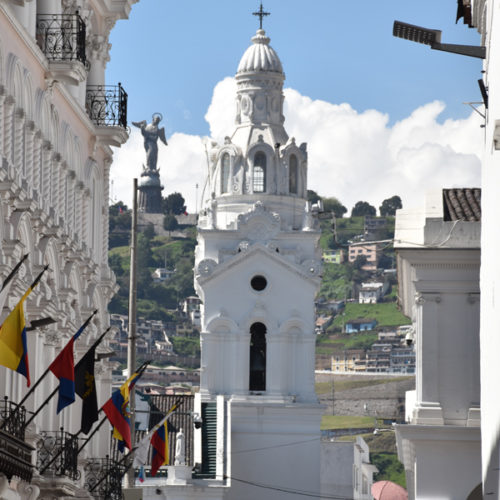 GOOD TO KNOW
---
3 days and 4 nights in Galapagos was a good timing. We could have stayed one more night.

If you find the Galapagos boat cruises too expensive, you can also decide to stay in Santa Cruz. From there you can plan day trips to the various islands.

Be aware of the altitude. It took us one day to acclimatize to the altitude. 

Do all the outdoor activities in the morning. It is often foggy in the afternoon. The weather can change quickly.

We felt safe all the time. Still you have to be careful, especially in Quito.

December is the best period of the year to travel to Galapagos. Temperature was perfect and the water was very clear.

On the cruise, be prepared to be social as you spend 3-4 days with the same 20-30 people.

We could have done this itinerary in 10-12 days instead of 15 days

We had a chauffeur during the whole trip. It is very easy. You don't need to bother where to go and how you will get there. We really had a great time with him and would recommend him. faustotours@hotmail.com

We had planned a train trip – Tren del Hielo II,  It looked very touristy, slow and not very interesting so we cancelled it. We would have loved to try Nariz del Diablo. Check their website as a train tour can be a nice way to discover the mountainous regions of Ecuador.