Carmo wanted to organise

this once in a lifetime family trip

during their Christmas holidays. The

Galapagos archipelago

was their first motivation to visit Ecuador. They were amazed by the wildlife and all the various animal species that you don't see anywhere else in the world. Ecuador is known for its biodiversity and sceneries are breathtaking. The variety of scenery in Galapagos combined with the wild volcano sceneries in the inland and the historical center of Quito made this trip unique.

Our budget for the whole trip was around

$ 4700 per person for 15 nights

(excluded food and activities) .
15 nights & 7 stops
 $$$

from December to April
outdoor & cultural discovery700 km

WHAT CARMO LOVED ABOUT THIS TRIP
Their hotel in Riobamba


The cruise in Galapagos archipelago
Horse riding in near Cotopaxi volcano
WHAT CARMO LOVED ABOUT THIS TRIP
Their hotel in Riobamba


The cruise in Galapagos archipelago
Horse riding in near Cotopaxi volcano
Arrival and departure airport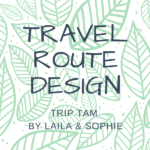 Discover our Travel Route Design services. Save time and take advantage of our community & personal experiences to design your unique itinerary. Learn more >