Carmo wanted to organise

this once in a lifetime family trip

during their Christmas holidays. The

Galapagos archipelago

was their first motivation to visit Ecuador. They were amazed by the wildlife and all the various animal species that you don't see anywhere else in the world. Ecuador is known for its biodiversity and sceneries are breathtaking. The variety of scenery in Galapagos combined with the wild volcano sceneries in the inland and the historical center of Quito made this trip unique.

Our budget for the whole trip was around

$ 4700 per person for 15 nights

(excluded food and activities) .
15 nights & 7 stops
 $$$

from December to April
outdoor & cultural discovery700 km

WHAT CARMO LOVED ABOUT THIS TRIP
Their hotel in Riobamba


The cruise in Galapagos archipelago
Horse riding in near Cotopaxi volcano
A snapshot
Hacienda San Martin, Nono
Quito
Galapagos Archipelago
Papallacta
Chucchilan
Riobamba
Cotopaxi
Intl Airport Quito
A snapshot
Hacienda San Martin, Nono
Quito
Galapagos Archipelago
Papallacta
Chucchilan
Riobamba
Cotopaxi
NEW YORK – QUITO
5h30 direct flights

QUITO – GUAYAQUIL- GALAPAGOS 
2 hours-
No direct flight from Quito
CAR WITH A DRIVER
700 km in 9 days
12h15 hours on the road – 4 days on a boat -7 stops
AVERAGE BUDGET PER PERSON

$4700 / pp for 15 nights TOTAL: 

$800 /pp for 11 nights (incl food)
$2800 /pp  (incl 4 nights + domestic flight)
$100 /pp for car & taxis $1000 /pp 
AIRPORT TO
NONO


45 km/1h

NONO TO
QUITO


35 km/1h

QUITO TO
GALAPAGOS ARCHIPELAGO


2 h flight via Guayaquil

GALAPAGOS TO
PAPALLACTA



2 h flight + 1 h drive
+

PAPALLACTA TO
CHUGCHILAN



60 km/1h

CHUGCHILAN TO
RIOBAMBA



230 km/3h30

RIOBAMBA
COTOPAXI



175 km/3h
GOOD TO KNOW
---
3 days and 4 nights in Galapagos was a good timing. We could have stayed one more night.

If you find the Galapagos boat cruises too expensive, you can also decide to stay in Santa Cruz. From there you can plan day trips to the various islands.

Be aware of the altitude. It took us one day to acclimatize to the altitude. 

Do all the outdoor activities in the morning. It is often foggy in the afternoon. The weather can change quickly.

We felt safe all the time. Still you have to be careful, especially in Quito.

December is the best period of the year to travel to Galapagos. Temperature was perfect and the water was very clear.

On the cruise, be prepared to be social as you spend 3-4 days with the same 20-30 people.

We could have done this itinerary in 10-12 days instead of 15 days

We had a chauffeur during the whole trip. It is very easy. You don't need to bother where to go and how you will get there. We really had a great time with him and would recommend him. faustotours@hotmail.com

We had planned a train trip – Tren del Hielo II,  It looked very touristic, slow and not very interesting so we cancelled it. We would have loved to try Nariz del Diablo. Check their website as a train tour can be a nice way to discover the mountainous regions of Ecuador.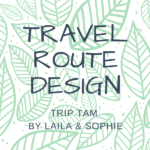 Discover our Travel Route Design services. Save time and take advantage of our community & personal experiences to design your unique itinerary. Learn more >