FAMILY VACATION TO BELIZE 
SHARED BY LUCIE
An eco-friendly destination that combines beach and jungle life
They were attracted to Belize because they had heard that it is an eco friendly country, it's an easy flight from New York and it combines beaches and jungle sites. They didn't want to travel long distances from one place to another. In Belize you can travel from the seaside to the Guatemalan border in only 3 hours. Belize is also know for its incredible coral reef, one of the largest in the world after Australia. A paradise for both snorkelers and divers. All these assets made Belize a perfect destination option for a one-week trip during the cold winter months in Europe and  North America.  
NEW YORK – BELIZE

5 hours
$800 -direct flights from NY Newark on Saturdays.
+ 
DOMESTIC FLIGHT & RENTAL CAR WITH DRIVER
1 domestic flight (Belize city to San Pedro) This flight was booked directly through the hotel.


4 hours on the road &  40 min  in the air
2 stops
AVERAGE BUDGET PER PERSON


TOTAL  = $ 2430 /pp for 7 nights$ 1170 pp for 7 nights 
$ 300 pp all acivities & transfer @ Sleeping Giant
$800 /pp intl flight – $160 /pp domestic flights
included in hotel package
UNSPOILED NATURE AND ABUNDANT WILDLIFE 
A 15-min Tropic Air flight from Belize to San Pedro
The Crystal clear waters at Secret Beach



Sleeping Giant Rainforest lodge
BELIZE CITY TO
SAN PEDRO


 
15 min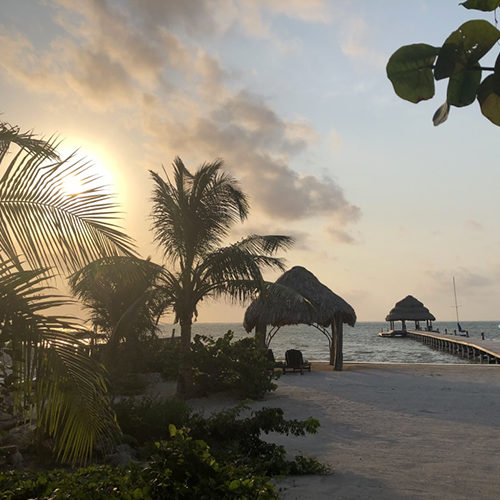 We stayed in Xanadu, an eco friendly hotel. Nestled among tropical gardens, eco- friendly Xanadu is located  on the beach, one mile south of San Pedro. There is a nice swimming pool and a jacuzzi on the beach. Our room had an equipped kitchen and was at walking distance to nice restaurants and a supermarket. Beware that there is no restaurant in the hotel.

 

We spent one day at secret beach, located on the west side of the island. There are no reefs on the west side of Ambergris Caye This site is very popular because there are crystal clear waters and stunning craggy limestone shores on top of sandy bottoms.  The water is calm and relatively shallow. You have to walk a good way out to get water above your waist in certain areas. There are all sorts of small businesses offering different activities like jet surf, paddle boats, etc.

 

We discovered some of the many restaurants in San Pedro. Their favorite place was Pier 366, an Italian restaurant that serves  home-made pizzas. We would not recommend the restaurant HiddenTreasure. The food wasn't great and they did not have a great experience there. 

 

We took  a one day excursion to Hol Chan and Shark Ray Alley, a snorkeling tour to discover the marine diversity provided by the Reef. Shark Ray Alley gets you as close to nurse sharks, stingrays and horse-eyed jacks as you would like to be. 

 

SAN PEDRO TO
BELMOPAN

 
+

15 min flight+ 80 km / 1h3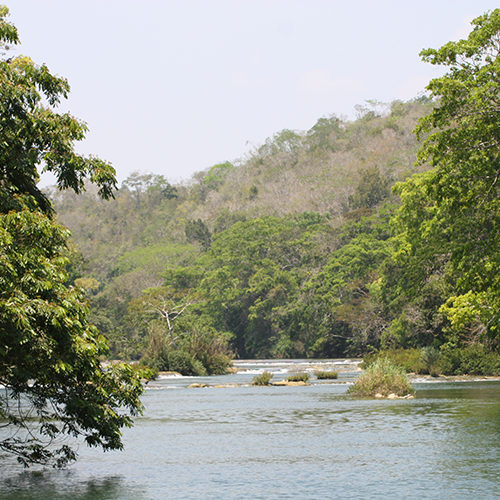 Sleeping Giant Rainforest lodge, a resort of National Geographic. Amazing location with rooms that overhang the river with a private plunge pool. There are many activities starting from the hotel. You can easily stay here for 5 nights without getting bored. You can borrow for free kayaks and paddle boards. All meals are produced locally and are delicious. Ask for a picnic basket for your one day field trip. Get 10% off all activities when you book in advance.

Xunantunich and Maya Culture Day A one- day excursion to the famous archaeological site of Xunantunich. Explore the ancient Mayan structures with a knowledgeable guide and learn about the once-flourishing Mayan civilization and their beliefs. 

Cave tubing in an ancient cave where Mayans  made sacrifices. 

Angel Falls zip lining 

Bird watching in the jungle forest of the hotel

Horse riding in the hotel property, with sunset in a Gazebo overlooking the landscape and the river.

Iguana reserve where they save and protects this specie.
GOOD TO KNOW
---
Consider Placencia instead of San Pedro, as it combines mountain and beach. San Pedro is becoming a hot tourist spot.

When you go snorkeling, be careful with the sharks. Avoid to go too close.

Warning: it is infamous with children trafficking in Belize.  Remember to take your wedding book with proof of your children to avoid facing any problems at the airport in NY.

Belize holds difficult diplomatic links with Guatemala. make sure to keep an eye on this situation before planning an excursion on the other side of the border.

Book your flight tickets well in advance to get good rates.