FAMILY VACATION TO BELIZE 
SHARED BY LAILA
An eco-friendly destination that combines beach and jungle life
Belize has always been on my bucket list. When you live in New York, it is an easy trip if you want a one-week getaway. There is a direct flight from Newark with United on Saturdays, but the returning flight includes a stopover. It is a small country, therefore it is easy to explore  in only one week. You can easily combine beaches, jungle and Maya culture in this one week trip. 
Belize is a very intimate country that will take you back to nature, thanks to its exceptional location, abundant wildlife, and magnificent submarine activities. The key attractions of this country include luxuriant natural landscapes, Maya culture and temples lost in the jungle, not to mention hidden caves, rivers, waterfalls, beaches, possibilities of snorkeling and a warm and welcoming population.



NEW YORK – BELIZE

4.30 hours – direct flights from Newark on Saturdays
$800
+
CAR WITH DRIVER + FERRY

4 hours on the road & 3h speedboat
2 stops
AVERAGE BUDGET PER PERSON


TOTAL  = $ 1600/pp for 6 nights$ 700 pp for 6 nights 
$ 100 pp for 1 day activity
$800 
transfer from Belize City to San Ignacio (round trip) included in lodging budget.
RIVER AND SEA
Caracol Maya site

The water bar at Secret Beach
Black Rock Lodge
1.
BELIZE CITY TO
SAN IGNACIO


130 km / 2h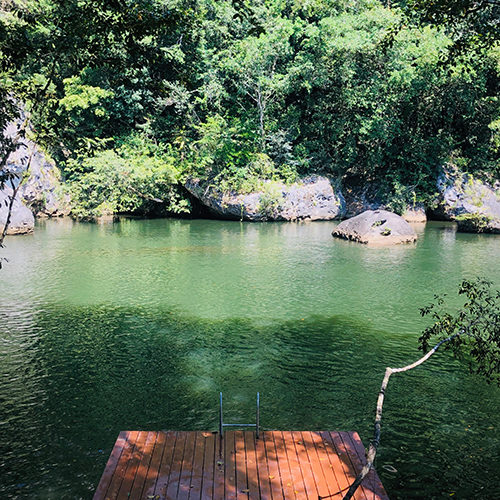 We stayed in an amazing and secluded ecolodge, a 30 min drive from San Ignacio, called Black Rock. It  is hidden in the jungle right near the Guatemalan border. Are you wondering what you can do there? Black Rock Lodge offers, among other activities, tubing, riverpool, hiking, birdwatching, visits of Maya temples and mountain biking.

 

One day excursion to the Ruins of Maracol, considered the biggest Maya site of Belize. Warning: this is a hard-earned  visit! Forget the crowded Maya sites of Yucatan, there are many others worth visiting. And the good news is that you will be almost alone… except for maybe .just a couple of monkeys.  Yes, it's possible! But be ready for a 2- hour drive on bumpy roads through the Mountain Pine Ridge reserve. The views are amazing, ranging from pine forests to tropical fauna. We picnicked on site. 

  

Climb  Maya ruins! Not only you  will be alone in this amazing site but you will be able to walk freely wherever you want: admire the stunning views of the Guatemalan mountains, meet baby monkeys, imagine being the  reigning family and just admire those incredible ruins! 

  

On the way back we stopped and swam at Rio Pools: waterfalls connected with each other by small natural water pools.

  

Tubing on the river at the hotel, jumping and diving in the river from the hotel's little private beach.
2.
SAN IGNACIO TO
AMBERGRIS CAYE (SAN PEDRO)
+

130 km/ 2h + 1h30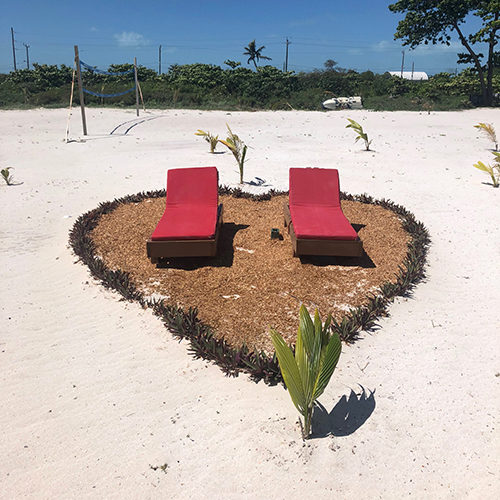 We stayed in a great resort on the beach, the Ramon Hotel. All rooms and main hotel area are connected through a luxuriant jungle patio. Bear in mind  that the hotel bar does not serve cocktails, only beer. The rooms are huge and you can walk everywhere: restaurants, beaches, bars and even the airport.

We went to the secret beach: we rented a golf cart for the 5 of us for the day. We found a very nice restaurant, located on the left hand side of  the parking, Aurora's Bar & Grill . We had tacos and beers . We spent the day at the beach of Aurora's Bar & Grill. Great food, nice settings and friendly people. 

Relaxing time on the beach. At sunset we bought cocktails at the Blue Bayou Bar, that has  tables directly on the water…yes you read correctly, you sit in the water and the waiter serves you there!

One downer during  our stay: we could not take  a one day snorkeling excursion in Belize's deep waters  because it was too windy.


GOOD TO KNOW
---
The roads are not in good condition . Therefore plan enough  time for transfers.

Consider domestic flights for your transfers as you will get there faster and flyingf  is an attraction in itself: beautiful views of the sea from the plane

Stay at least 3 nights in the jungle to explore the area. There are so many activities to do that it's worth   spending more time there and less at the beach.

Beware of seaweed on the Belizean beaches. It has been washing  up in the Caribbean in unusually large amounts since 2011, but this year the largest volumes ever appeared on the shore, from Barbados to Mexico, with piles several feet deep stretching for miles, and dozens of meters out to sea. Hotels put a lot of effort into removing it. Not only it affects the beauty of the white sand beaches but the smell can be rather  unpleasant.

When it is windy there is not much to do in San Pedro as boats do not go out on the snorkeling tours/diving tours

Safety: Belize City has a reputation of  being unsafe. The Guatemalan border can also be risky as the two countries have an enduring  territorial dispute.

Make sure there is a pontoon in the hotel. Indeed swimming from the beach can be annoying due to the seaweeds that come  into the beach every morning.

Snorkeling excursions in san Pedro  are getting very touristy. Try to leave early in the morning to avoid the crowds. Consider  booking a private tour. It's worth the extra dollars.